Camping on Board advantages
All passenger Cars & Trailers
Ferry to Agios Efstratios
Passengers travelling by ferry to Agios Efstratios arrive to a small island of northeastern Aegean shaped like an uneven triangle!
Travelling to the Destination Agios Efstratios
When travelling to the destination Agios Eftsratios you are taken to a place where locals welcome you with open arms and offer a one of a kind hospitality. They will let you know about the story of the island and suggest you the places you must visit while staying there. The island also offers a shelter to the well-known Monachus-Monachus Mediterenean Monk Seal.
TAgios Efstartios is the only village of the island also named Agios Eftsratios. The village is composed of white traditional houses and small alleys one can walk around. On its tiny taverns one can taste fresh fish the main ingredient for many local specialties. A hidden oak forest in the southeast part of the island offers you a wonderful place for a walk and picnic. Take a swim to the sandy beaches of Agios Antonios, Agios Dimitrios, Alonitsi, Ftelio, Lidario and Sahara and an excursion to the sea caves of Fokia and Tripiti before leaving. Bicycle lovers will find the ideal place to take long rides among the islands landscape and impeccable beauty.
The island is located between Lesvos and Skyros. Ferry routes Agios Efstratios start from the port of Lavrio and Kavala. There are also daily ferries from Limnos if one wants to get there faster (duration of trip 1 hour and 20 minutes).
Schedules & Prices Agios Efstratios
Choose your departure port and date and get all current ferry schedules and prices for Agios Efstratios!
Discounts & Offers Agios Efstratios
Ferry Port Agios Efstratios - How to get there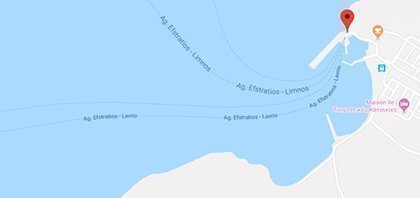 815 00 Agios Efstratios, Greece
GPS: 39.540359, 24.986955
Popular Routes from & to Agios Efstratios