Camping on Board advantages
All passenger Cars & Trailers
Ferry to Antiparos
Passengers travelling by ferry to Antiparos will arrive to an island with many faces, an island for high demands!
Travelling to the Destination Antiparos
Cosmopolitan with intense nightlife and crowded beaches, lonely with secluded coves, historical and geological interest, Antiparos is an island for high demands. The port and central settlement of the island is a sample of Cycladic architecture with white houses and narrow alleys one can walk through. The central paved road full of boutiques, cafes and restaurants leads to the Venetian Castle, whose entrance is still preserved.
Anyone travelling to the destination Antiparos will be impressed by the natural beauty of the environment. Sandy beaches, beaches with pebbles or rocks offer the visitor the opportunity to relax or take part in many water sports. Psallaki, Glyfa, Sifneikos, Apantis and Soros are the most crowded beaches of the island, while for moments of serenity and tranquility the beach of Kalargyros, Monasteries and Livadia are an ideal choice. In the southern part opposite the picturesque fishing village of Agios Georgios is the islet of Despotiko with important archaeological finds, sea caves with seals and exotic beaches. Before living someone should have visited the cave of Agios Antonios an enormous geological and archaeological interest with finds dating back to the Stone Age.
A small distance from Pounta on Paros, with an area of 35 square kilometers, Antiparos has 1037 permanent residents. The ferry routes Antiparos start from Paros. Large boats connect the port of Parikia with Antiparos from Easter period to October while buses take the visitor to the port of Pounta from where daily sailings are performed by conventional ferries to Antiparos.
Schedules & Prices Antiparos
Choose your departure port and date and get all current ferry schedules and prices for Antiparos!
Discounts & Offers Antiparos
Ferry Port Antiparos - How to get there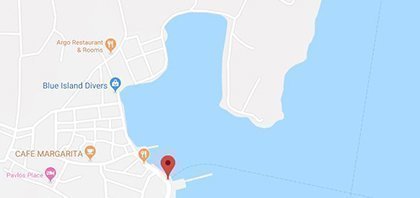 840 07 Antiparos, Greece
Tel.: +30 228 406 1485
GPS: 37.039419, 25.085314
Popular Routes from & to Antiparos