Camping on Board advantages
All passenger Cars & Trailers
Ferry to Bodrum
Passengers travelling by ferry to Bodrum arrive in the ancient city Halicarnassus, famous for one of the Ancient World's Seven Wonders!
Travelling to the Destination Bodrum
Today's Bodrum is a district and a port city in Muğla Province, in the south-western Aegean Region of Turkey and one of the most important centers of trade, art and entertainment as it has been since centuries ago. In this coastal town traditional and modern life go along hand in hand.
Passengers travelling to the destination Bodrum see the Castle of St. Peter, a dominating 15th-century crusader outpost that sits between a yacht marina and a bay. Bodrum's famous castle is an impressive example of medieval architecture. The construction took years to complete and occupying some 30.000 square meters. In its days, it was a monumental symbol of the unity of Christian Europe against the ascending power of the Ottoman Empire. Visitors should visit the castle, which houses one of the world's finest museums.
Tourists from other places and the nearby Greek Islands can take advantage of the ferry routes Bodrum to pay the town a visit. They might want to take a historical and archaeological trip to Ephesus, which is about 160 km north of Bodrum, and can be reached in approximately two and a half hours by car. Ephesus is one of the highlights of Turkey, as much of that great ancient city has been preserved. St. Paul lived in Ephesus in the 60's AD. Weather looking for relaxing beach holidays or educational journeys on the paths of history, through the Bodrum ferry timetable visitors can find out when and how to plan their holidays.
Schedules & Prices Bodrum
Choose your departure port and date and get all current ferry schedules and prices for Bodrum!
Discounts & Offers Bodrum
Ferry Port Bodrum - How to get there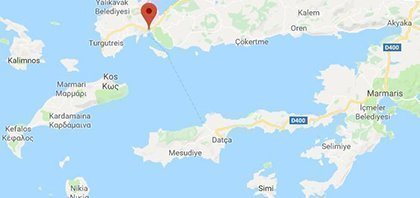 Karada Marina, 5, Neyzen Tevfik Cad, 484 00 Bodrum, Turkey
Tel.: +90 252 316 1860
GPS: 37.036293, 27.427064
Popular Routes from & to Bodrum