Camping on Board advantages
All passenger Cars & Trailers
Ferry to Bonifacio
Passengers travelling by ferry to Bonifacio, the City of Cliffs since it's overhead on a limestone cliff, will be stunned by this medieval town's charm!
Travelling to the Destination Bonifacio
When you are travelling to the destination Bonifacio, Corsica's most ancient city, you soon are going to discover its mythical sights. The city itself is well-known for its location on a limestone top approx. 70 meters above the ocean but also the beaches between Bonifacio and Pianotolli, the rock pools of Zonza, the Ste Lucie de Tallano small town, Col de Bavella pass and many more are places worth visiting.
The city is located in the southernmost point of Corsica and only 11 km away from the island of Sardinia and they are divided by the famous Strait of Bonifacio, a very dangerous passage well-known for its obstructions. Graphical streets, multicolored houses, monasteries and primeval sites in combination with beautiful beaches are Bonifacio's treasures offered. King Aragon Alfonso's V stairway deserves to be visited despite its difficulty on hiking it. The sailors' cemetery which is the end of the chemin de ronde, an ancient path of the guardsmen, is worth mentioned since it provides a dazzling view of the strait. Nevertheless, the Citadel of Cliffs ιs best explored by the sea and for that, boat trips are organized. Bonifacio's underwater city Marouville allures experienced divers to explore it and find magical viewings beneath the surface. Windsurfing is another water sport the waters of Piantarella beach can provide as well as kayak or guided jet ski renting for exploration of the turquise sea. For the lovers of nature, horseback riding is arranged through the dunes of the village. In addition, local products such as the famous cold cut meats and the delicious cheese "brocciu" accompanied with the local wine, beer or liqueurs are tasted by all tourists who travel by ferry to Bonifacio.
Ferry routes Bonifacio include the route Bonifacio to Santa Teresa di Gallura which connects Corsica with Sardinia and takes approx. 50 mins.
Schedules & Prices Bonifacio
Choose your departure port and date and get all current ferry schedules and prices for Bonifacio!
Discounts & Offers Bonifacio
Ferry Port Bonifacio - How to get there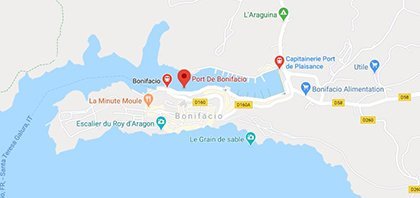 Quai Noël Beretti, 20169 Bonifacio, France
Tel.: +33 495 731 007
GPS: 41.388657, 9.156715
Popular Routes from & to Bonifacio