Camping on Board advantages
All passenger Cars & Trailers
Ferry to Cesme
Passengers travelling by ferry to Cesme reach a small harbor town that has been the bridgehead between Europe and Asia since ancient times!
Travelling to the Destination Çeşme
The town is situated on a peninsula which also carries the same name and is a popular holiday resort. The name "Çeşme" means "fountain", possibly given to the town because of the many fountains in the city. Çeşme has grown to become one of Turkey's most prominent centres of international tourism. A lot of hotels, marinas, clubs, restaurants and other facilities for visitors are found in Çeşme centre and in its surrounding towns and villages.
Passengers travelling to the destination Çeşme might want to enjoy windsurfing. Cesme is known as the windsurfing and kite-surfing capital of Turkey, and the third best surfing resort in the world. Most of the surfing schools are located in Alacati where surf festivals take place every year. The beaches in Çeşme are also very popular. They attract thousands of tourists annually. Before leaving with ferries from Çeşme, visitors should explore the city itself. The main square has restaurants, cafes, tea houses, and nice sunset views of the Aegean Sea.
Ferry routes Çeşme connect the port with the Greek island of Chios. There are daily crossings in the summer from Çeşme to Chios and from Chios to Çeşme. At their arrival passengers will see the fortress of the town, looming over the square and providing much historical information and architectural character. The fortress has been restored and now hosts the local museum. Through Çeşme ferry timetable, it is possible to plan and organize your trip to Turkey and to benefit from everything Çeşme has to offer.
Schedules & Prices Cesme
Choose your departure port and date and get all current ferry schedules and prices for Cesme!
Discounts & Offers Cesme
Ferry Port Cesme - How to get there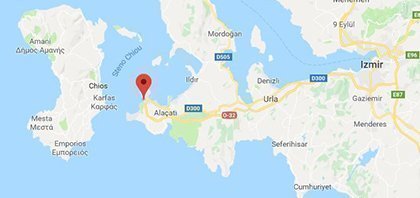 Musalla Mahallesi, 19, Atadağ Cd., 359 30 Çeşme / İzmir, Turkey
Tel.: +90 232 712 8749
GPS: 38.322292, 26.297226
Popular Routes from & to Cesme