Camping on Board advantages
All passenger Cars & Trailers
Ferry to Civitavecchia
Passengers travelling by ferry to Civitavecchia arrive in a major port city, very close to the metropolitan city of Rome!
Travelling to the Destination Civitavecchia
Civitavecchia is also a sea port on the Tyrrhenian Sea, 80 kilometers west-north-west of Rome, across the Mignone river.  Rome and the Vatican being nearby, allows tourists to visit them easily. For those staying in Civitivecchia, the town has a lot to offer regarding monuments and sites. Right after their arrival, passengers can explore the Forte Michelangelo, which was built to defend the port of Rome and is named after the famous artist.
Passengers travelling to the destination Civitavecchia debark in "The Port of Rome", an important hub for the maritime transport in Italy, for goods and passengers. They might want to visit the Terme Taurine baths, north of the city at Ficoncella. Water springs were well known and appreciated for the therapeutic virtues ever since the prehistoric era and are still popular with the Civitavecchiesi. The Baths date back to the most remote and ancient times. Before leaving with ferries from Civitavecchia visitors should see the beach of Saint Augustine. There they will find almost two kilometers of sandy beach.
It is well known that Civitavecchia is a major cruise and ferry port, the main starting point for sea connection from central Italy. Ferry routes Civitavecchia link central Italy with Sardinia, Sicily, Malta, Tunis and Barcelona. Through Civitavecchia ferry timetable visitors can plan their trip to that important port town, which is an excellent option for anyone who wants to enjoy a tranquil day meandering instead of dealing with the hustle and bustle of big-city Rome.
Schedules & Prices Civitavecchia
Choose your departure port and date and get all current ferry schedules and prices for Civitavecchia!
Discounts & Offers Civitavecchia
Ferry Port Civitavecchia - How to get there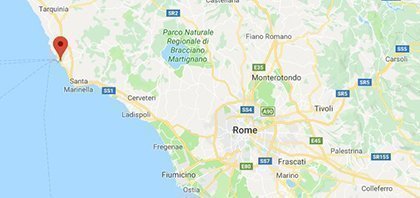 E840, 000 53 Civitavecchia, Italy
Tel.: +49 076 636 6201
GPS: 42.099830, 11.783129
Popular Routes from & to Civitavecchia