Camping on Board advantages
All passenger Cars & Trailers
Ferry to Genoa
Passengers travelling by ferry to Genoa arrive at a historical port city in northern Italy, the capital of the Region of Liguria!
Travelling to the Destination Genoa
Genoa has a long history as a rich and powerful trade center. This European Capital of Culture (2004) and birthplace of explorer Christopher Columbus has beautiful sights and is of great interest for visitors. Artistic churches, lovely seaside villas and the narrow streets of the historical center, called "vicoli" will certainly appeal to everyone.
When travelling to the destination Genoa you should not miss out on exploring Europe's biggest aquarium in Genoa or see some of the numerous splendid Palaces like the Palace of Saint George (built in 1260) or the Royal Palace of Genoa (built in the 16th century). Before leaving with ferries from Genoa tasting the excellent local cuisine, which mainly includes fish and seafood, is absolutely compulsory. Genoa can also be used as a base to explore the Italian Riviera and world famous places like Portofino and the Cinque Terre.
Genoa is the largest seaport in Italy and has many ferry services. Ferry routes Genoa link the port with other cities like Barcelona, Tangier, Tunis and a lot more. More and more people have opted for a trip to Genoa in recent years seeking the "quintessential" Italy. Pastel-colored terracotta-roofed houses, cosy alleyways, and the renovated old port are only some of the attractions that Genoa has to offer. Through Genoa ferry timetable it is possible to plan your trip in advance and to enjoy your journey.
Schedules & Prices Genoa
Choose your departure port and date and get all current ferry schedules and prices for Genoa!
Discounts & Offers Genoa
Ferry Port Genoa - How to get there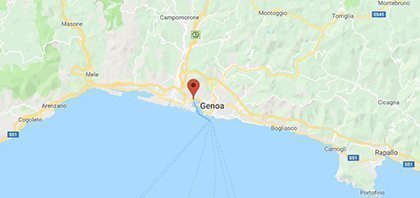 1, Ponte Dei Mille, 161 26 Genoa, Italy
Tel.: +39 010 089 8300
GPS: 44.411753, 8.915592
Popular Routes from & to Genoa