Camping on Board advantages
All passenger Cars & Trailers
Ferry to Giglio
Passengers travelling by ferry to Giglio, the isle of goats, are landing on a mountainous island, mostly made of granite but also including charming beaches!
Travelling to the Destination Giglio
When travelling to the destination Giglio, visitors are soon going to discover the island's beauty. Composed mostly of rocks, mountains made of granite and having its biggest part covered in green, Giglio is a favorite target for those who want to relax but also for hikers and divers. Inhabited since the stone age and taking its name from the greek word "aegilion", isola del Giglio consists three main colonies which are the Giglio Port or Giglio Porto, Giglio Castle or Giglio Castello and Giglio Campese. Since you will be debarked at the port, Giglio Porto is the first one you will see and probably you will spend most of your time there. It is a pretty little town with colorful houses and many shops, bars and restaurants where you can drink a coffee, eat and taste the famous and delicious local white wine "Ansonaco". The ancient Roman villa of Domitius Ahenobarbus is situated in Giglio port and it is a main attraction there. In addition, uphill and at a very high point of the island where you can go by grabing a taxi or a bus, Giglio Castello is located. It is notable to say that you can also reach it on foot but can be really hard if you are not in a good shape. From this medieval walled fortress you can see the whole island and the sea surrounding it so this makes it a perfect spot for taking pictures. The castle also contains a church in Baroque style where inside are religious icons, a big ivory crucifix and also interesting narrow lanes to wander. This church was made by the sculptor Giambologna and is dedicated to San Pietro Apostolo. On the island's western side, 5 kilometers away from Giglio Porto and Giglio Castello, you can find Giglio Campese. Bars, restaurants and the biggest beach of the isle lies there including private beach areas but free sand too. Three more charming beaches are the Caldane beach with its red sand and being the smallest of them, the rocky Aranella beach which provides a superb view over Argentario and La Canelle beach with its crystal clear waters. At the northest point of Giglio, Punta Fenaio, there is the old lighthouse now transformed into a romantic resort with beautiful views over the ocean, nice Italian food combined with wine, perfect for relaxation. 
Isola del Giglio is a part of the Province of Grosseto in the Tyrhenian Sea and is one of the seven islands which form the Tuscan Archipelago. It is also positioned within the Archipelago Tuscano National Park. It abstains 16 kilometers from the Monte Argentario promontory and its coast longiness is about 27 kilometers long. Ferry routes Giglio occur from and to P.S. Stefano and Giannutri especially in high season periods.
Schedules & Prices Giglio
Choose your departure port and date and get all current ferry schedules and prices for Giglio!
Discounts & Offers Giglio
Ferry Port Giglio - How to get there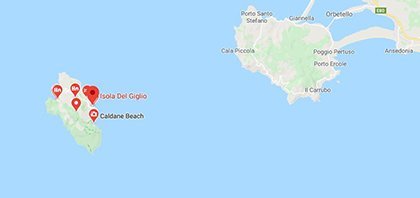 58012 Giglio Porto, Province of Grosseto, Italy
GPS: 42.359400, 10.921223
Popular Routes from & to Giglio