Camping on Board advantages
All passenger Cars & Trailers
Ferry to Katapola
Passengers travelling by ferry to Katapola cross over to the main port of the island of Amorgos!
Travelling to the Destination Katapola
Katapola comes from the Greek word "Kato Poli" which means down town. Hotels, apartments and a camping site offer accommodation for all kinds of tourists.
When travelling to the destination Katapola one can enjoy a swim in its beautiful beaches along the bay. Behind the port is a 255-meter high hill, where the Acropolis of Ancient Minoan used to be. The excavations are of great interest and it's a place worth visiting. The narrow streets leading to the interior of the settlement are full of tourist and commercial shops. The old fountain of Katapola with its white washed stones and Panagia Katapoliani are of great interest for the visitor. One from the port can enjoy a beautiful walk to the fishing village of Xylokeratidi. There you find a large number of coffee shops, bars, restaurants and rooms to let along its coastal road. The island is famous for its marked footpaths, which cover the whole island so before taking a ferry from Katapola walk around them and enjoy the natural beauty of the island.
Katapola is occupied by 134 inhabitants. Katapola ferry timetables include Katapola ferry routes which depart from Piraeus as well as from other Cycladic islands and from the Dodecanese. During high season Katapola can also be reached with faster speed boats the so called Catamarans.
Schedules & Prices Katapola
Choose your departure port and date and get all current ferry schedules and prices for Katapola!
Discounts & Offers Katapola
Ferry Port Katapola - How to get there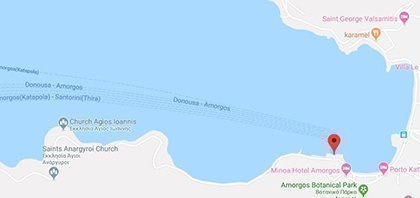 Katapola Port
840 08 Amorgos, Greece
Tel.: +30 228 507 1259
GPS: 36.827372, 25.862726
Popular Routes from & to Katapola (Amorgos)