Camping on Board advantages
All passenger Cars & Trailers
Ferry to Pianosa
Passengers debarking from ferry to Pianosa are going to immediately feel the unmatched peaceful atmosphere this nearly uninhabited Tuscan island is providing!
Travelling to the Destination Pianosa
Tourists travelling to the destination Pianosa are mostly those who visited Napoleon's Elba and want to spend some relaxing time at a much more tranquil island. Pianosa or, in Roman times Planasia (plain), is also called "zattera" of the Tuscan Archipelago and has its reasons. The isle is so flat that the sea can be seen only be reaching the coastline. In ancient times, isola di Pianosa was a penal colony with a very high walled prison and was comparable to the famous Alcatraz. Helicopters flying above, loud sirens and convicts with the heaviest felonies were serving their penalties there until 1998. Now it stands as an open prison where convicts run the island's one and only very small hotel and restaurant. Furthermore, Napoleon rated it as very interesting in consequence of its rich vegetation and wildlife. Probably this is the reason why the Grand Duke of Tuscany made it a hunting reserve in the early ages. Now, being a part of the Tuscan Archipelago National Park, Pianosa has very few inhabitants but very much to offer though. The sole bar/restaurant is located in Cala Giovanna where tourists also visit the beautiful white sand beach which lies there as well as the Roman villa. Except this villa, there are many more Roman ruins to explore and other traces from previous settlements of Pianosa such as the early Christian catacombs and the Copper Age's burial ground. Interesting without doubt can be a little roam inside the Museum of penitentiary where you can take a glance at the old photos hanged on the walls. Despite the extraordinary sightseeing, Pianosa is an ideal destination for divers, snorkelers and land rovers. Under the guidance of an expert you can wander on the island on a mountain bike or you can dive into the wealthy sea and witness the unspoiled seabed with the famous Posidonia oceanica as well as the many Mediterranean sea species. If you are lucky enough you will see some dolphins or even a caretta caretta. 
Pianosa is the 5th biggest island of the Tuscan Archipelago and also the closest one to Elba abstaining a distance of 14 kilometers. Its population reaches almost the number of 2500 inhabitants. It has a coastal perimeter of 18 kilometers and its dimension is approx. 10 square kilometers with the highest point being 30 meters above sea level. Ferry routes Pianosa occur from and to Piombino and Rio Marina especially in high season periods.
Schedules & Prices Pianosa
Choose your departure port and date and get all current ferry schedules and prices for Pianosa!
Discounts & Offers Pianosa
Ferry Port Pianosa - How to get there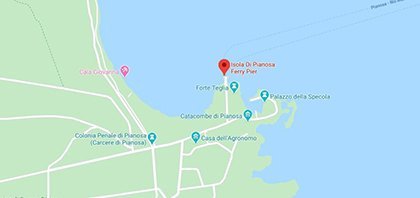 57034 Campo nell'Elba, Province of Livorno, Italy
GPS: 42.589191, 10.098943
Popular Routes from & to Pianosa