Camping on Board advantages
All passenger Cars & Trailers
Ferry to Sikinos
Passengers travelling by ferry to Sikinos arrive at a small and beautiful island and municipality in the Cyclades!
Travelling to the Destination Sikinos
Being located between the islands of Ios and Folegandros, it is part of the Thira regional unit. Once known as Oinoe (Island of wine), Sikinos is a quiet place with two villages. For tourists who seek relaxing and peaceful holidays, it is the ideal place.
When travelling to the destination Sikinos one arrives in the port "Allopronia" on the south sea side of the island. From there they can continue to the village Chora, which is located higher up in the hills. Chora which is the capital of the island is constructed on the slopes of a mountain and with amazing view to the Aegean Sea. It consists of two settlements, Castro and Chorio. Those staying in Allopronia, will find some nice tavernas and one of the two large sandy beaches on the island. There are several ancient ruins rest on the island, but being somehow remote, visitors will have to find a way to reach them. Before leaving with Ferry from Sikinos, tourists should visit the most interesting sightseeing on the island, which is the Monastery of Episkopi. It is located in the homonymous settlement. This temple was first considered to be an ancient temple of God Apollo, but it has been discovered to bear the signs of a Roman Mausoleum.
Ferry routes Sikinos connect the island with the port of Piraeus with frequent itineraries during summer. The island is also directly connected by boat with Folegandros, Ios, Samos, Santorini, Serifos and Sifnos. Sikinos is among the tiniest and most picturesque villages in the Cyclades, with the characteristic Cycladic architecture. It is an ideal place for visitors who want to escape from the hustle and bustle of their daily routine and enjoy quiet and relaxing holidays in the Aegean Sea. Through Sikinos ferry timetable they can organize their journey and enjoy their holidays.
Schedules & Prices Sikinos
Choose your departure port and date and get all current ferry schedules and prices for Sikinos!
Discounts & Offers Sikinos
Ferry Port Sikinos - How to get there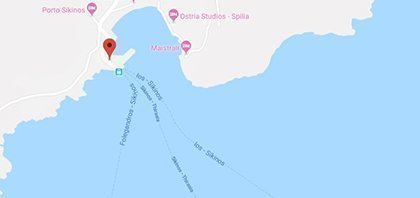 Unnamed Road, 840 10 Alopronia, Sikinos, Greece
Tel.: +30 228 605 1121
GPS: 36.674866, 25.143329
Popular Routes from & to Sikinos