Camping on Board advantages
All passenger Cars & Trailers
Ferry to Venice
Passengers travelling by ferry to Venice arrive in the capital city of the Veneto region and one of probably Italy's most worth seeing cultural places!
Travelling to the Destination Venice
The historical center of the city is located on one of the 118 islands in the Venetian Lagoon. The city in its entirety is listed as a World Heritage Site along with its lagoon since 1987. Although Venice used to be one of the biggest and most important trade cities in former times, its current economic structure is mainly based upon tourism.
Those travelling to the destination Venice visit one of the most popular cities among tourists. Venice has a rich artistic and cultural heritage and countless sights to display. The Rialto Bridge (Ponte die Rialto) is one of the best-known structures of the city. The Rio de Palazzo is an eight meter wide canal which is crossed by the Rialto Bridge. The convicts used to cross the Bridge of Sighs (Ponti di Sospiri) when they were brought to prison. The Doge's Palace at the Piazza San Marco once was the center of political power. The Canal Grande or Grand Canal is almost 4 km and 30 to 70 m wide with an average depth of 5 meters. It makes a large reverse s shape through the central districts. Tourists should also visit the Basilica S.S. Giovanni and the Paolo Church, the Piazza San Marco and the Piazzeta. Almost two third of Venice are water areas.
Ferry routes Venice are well developed There are a lot of Greek ferry operators that offer routes to Corfu, Igoumenitsa and Patras.
Schedules & Prices Venice
Choose your departure port and date and get all current ferry schedules and prices for Venice!
Discounts & Offers Venice
Ferry Port Venice - How to get there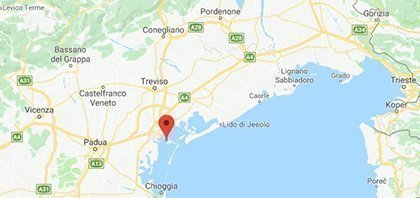 13, Fabbricato, Santa Marta, 301 35 Venice, Italy
Tel.: +39 041 533 4111
GPS: 45.431436, 12.312477
Popular Routes from & to Venice