Camping on Board advantages
All passenger Cars & Trailers
Ferry to Bari
Passengers travelling by ferry to Bari get to discover one of Italy's most important port cities and university centers!
Travelling to the Destination Bari
Bari is also an industrial city. A lot of metal, automobile and chemical industries have their branches here. Furthermore, the annual fair "Fiera del Levante" takes place in Bari. That is why this city plays a major role in international economic relations. Bari is about 4.000 years old and over the years it was alternately conquered by the Greeks, Romans and Arabs, usually for short periods of time.
Those travelling to the destination Bari have a lot to discover, although most of the buildings in the Old Town are not that old. "Palazzo Fizarotti", the theaters "Teatro Margherita" and "Teatro Petruzzeli" are worth visiting. In addition to the buildings in the Old Town, there are also a lot of rock-hewn churches and hypogea. The latter are corridors and chambers built into rocks. Interesting places to visit are therefore the Jewish Tomb, the Hypogeum of "Madia Diana", the Temple of St. George and the rock-hewn church of "St. Candida". In addition, a visit to the Archeological Museum, the art gallery "Pinacoteca Della Provinzia", the Municipal Museum and the Botanic Garden is worth while. Don't miss the Feast of St Nicholas. Being the patron saint of Bari, he is honored with a historic procession by the "Caravella" every year in the scope of the trade fair "Fiera Del Levante".
Apart from the International Airport, that is mainly approached by budget airlines, there are plenty of ferry routes Bari. The most popular destinations are Patras, Igoumenitsa, Corfu and Durres.
Schedules & Prices Bari
Choose your departure port and date and get all current ferry schedules and prices for Bari!
Discounts & Offers Bari
Ferry Port Bari - How to get there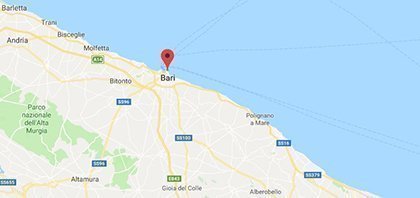 1, Piazzale Cristoforo Colombo, 70122 Bari, Italy
Tel.: +39 080 578 8511
GPS: 41.133041, 16.870501
Popular Routes from & to Bari