Camping on Board advantages
All passenger Cars & Trailers
Ferry to Delos
Passengers travelling by ferry to Delos reach a rocky island in the Aegean Sea, which was considered to be the birth place of God Apollo and Goddess Artemis!
Travelling to the Destination Delos
What makes it unique is the fact that no other island in the whole world has that number of archeological monuments and antiquities. It's considered such a sacred place that no one has ever been born or died on that island.
When travelling to the destination Delos, one is taken to a large archeological site. The monuments are well preserved due to its remote location and the fact that they are constantly preserved and restored by the Hellenic Ministry of Culture. Architects, conservators, archaeologists and technicians visit the island frequently and work together so as to preserve the beauty and authenticity of the monuments. Among the most famous ones are the Terrace of the Lions, the statue of Aphrodite of Delos and the House of Dionysus. Those taking a ferry from Delos will have taken a memorable trip back in time.
Delos has at total area of 6.85 square kilometers and a central hill runs along the entire island. It's populated only by 24 inhabitants most of them being the staff of the archeological site and the museum. Ferry routes to Delos are daily from Mykonos and the duration of the trip is 30 minutes. During high season, boats from Tinos and Naxos offer the service as well.
Schedules & Prices Delos
Choose your departure port and date and get all current ferry schedules and prices for Delos!
Discounts & Offers Delos
Ferry Port Delos - How to get there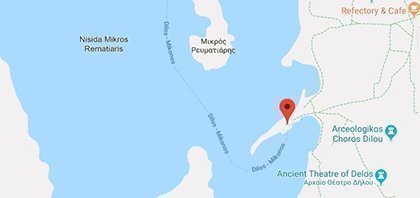 846 00 Mykonos, Greece
Tel.: +30 228 902 8933
GPS: 37.398594, 25.264610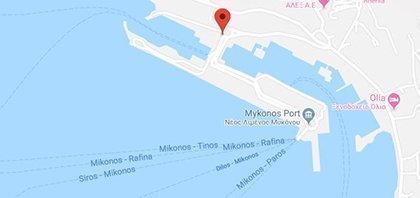 New Port
Tourlos, 846 00 Mykonos, Greece
Tel.: +30 228 902 8933
GPS: 37.466132, 25.322824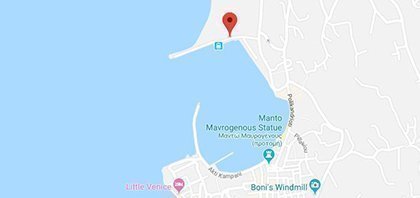 Old Port
Mykonos Town, 846 00 Mykonos, Greece
Tel.: +30 228 902 8933
GPS: 37.451178, 25.327796
Popular Routes from & to Delos