Camping on Board advantages
All passenger Cars & Trailers
Ferry to France
Passengers travelling by ferry to France arrive at a European country ideal for relaxing holidays and cultural sightseeing!
Travelling to the Destination France
France has long been a global center of culture, making significant contributions to art, science, and philosophy. The country hosts Europe's third-largest number of cultural UNESCO World Heritage Sites (after Italy and Spain) and is visited by around 83 million foreign tourists annually. France has a great influence on culture, economy, military and politics.
Ferry to France travel from all over and transfer tourists who are both interested in culture and leisure. France has 37 sites inscribed in UNESCO's World Heritage List and features cities of high cultural interest, beaches and seaside resorts, ski resorts, and rural regions that many enjoy for their beauty. Before leaving with the ferry from France, visitors should try one of the 365 kinds of cheese or a glass of champagne. They should also visit some of the sites that are listed in UNESCO's World Heritage List.
Ferry routes France connect Britain, Spain, Italy and North African countries with major ports of France. With more than 10 millions tourists a year, the French Riviera (or Côte d'Azur), in south-east France, is the second leading tourist destination in the country, after the Paris region. There are ten major ports in France, the largest of which is in Marseille. Through France ferry timetable, you can plan and organize your journey and visit some of the 1,200 museums, cultural establishments and historical buildings. 300 days of sunshine, 115 kilometers of coastline and beaches at the French Riviera, castles, churches and an excellent gastronomy will make your holidays heavenly.
Schedules & Prices France
Choose your departure port and date and get all current ferry schedules and prices for France!
Discounts & Offers France
Ferry Port France - How to get there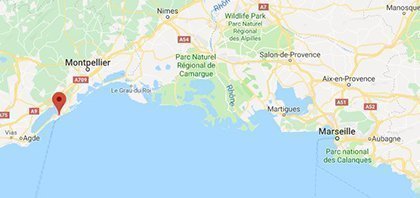 1, Quai Philippe Régy, 342 00 Sète, France
Tel.: +33 046 746 2828
GPS: 43.405031, 3.704571
Popular Routes from & to France