Camping on Board advantages
All passenger Cars & Trailers
Ferry to Ermioni
Passengers travelling by ferry to Ermioni reach a small seaside town and port on the eastern coast of Peloponnese in the region of Argolis!
Travelling to the Destination Ermioni
The town is built around the port on the green slopes of a hill and serves as a getaway for many Athenians who have got holiday homes there. Families that are looking for relaxed and peaceful holidays, will be amazed by the natural beauty of the environment and the convenient location of the town. From Hermioni its is easy to make an excursion to Ancient Epidaurus, to Porto Heli, Nafplion, Hydra and Poros.
Passengers travelling to the destination Ermioni may have started their journey in Piraeus or on one of the Saronic Islands Hydra or Spetses. It is an ideal destination for families with children, as it offers nice beaches like Thermissia, Kouverta and Plepi. Some beaches are nearby, in a walking distance from the town and others like the clean and sandy beach Kouverta are farther away, but definitely worth a visit. Spending your vacations in Hermioni you either stay in town and enjoy traditional food, long walks, swimming and relaxing, or you can use Hermioni as a starting point to explore the eastern coasts of the Peloponnese. In the area of Kranidi one can visit the Folklore Museum and in Nafplion the Archaeological Museum, which hosts many findings that had their origin in the Ancient Town of Hermioni. Nafplion itself is also worth a visit, as there are a lot of historical sites to see. Before leaving with a ferry from Hermioni, visitors should take the opportunity and go on a trip to Dokos islet, where they can admire the remains of the oldest known shipwreck in the world.
About 2,500 people live in the seaside town and port Hermioni, which displays the features of an island. Economy is supported by agriculture and fishing and of course by tourism, due to the picturesque and convenient location. Ferry routes Hermioni connect the town with Piraeus and some islands of the Saronic Gulf, like Hydra and Spetses, which makes Hermioni ideal for island hopping.
Schedules & Prices Ermioni
Choose your departure port and date and get all current ferry schedules and prices for Ermioni!
Discounts & Offers Ermioni
Ferry Port Ermioni - How to get there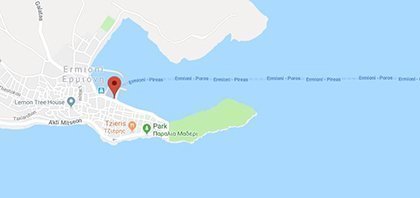 210 51 Ermioni, Greece
Tel.: +30 275 403 1243
GPS: 37.385319, 23.249219
Popular Routes from & to Ermioni