Camping on Board advantages
All passenger Cars & Trailers
Ferry to Karlovasi
Passengers travelling by ferry to Karlovasi reach a town at the northwest side of Samos island!
Travelling to the Destination Karlovasi
It consists of 4 districts, Paleo, Meso, Neo Karlovasi and the Port of Karlovassi. Neo Karlovasi is the biggest of all. The town used to be trading center for tannery and tobacco. That's why when you reach the port you see many abandoned warehouses, a sign of the glorious days of the town.  If you go further inside Karlovasi, neoclassical manors, impressive churches and beautiful squares will be revealed to you showing the real face of the town.
Visitors travelling to the destination Karlovasi should not miss the opportunity to visit the mountain villages of Kerki. The villages of Leka, Nikoloudes and Kosmade with their picturesque squares will give you the opportunity to drink your coffee in their small cafes and enjoy a spectacular view of the sea, tasting local delicacies and traditional dishes. Close Karlovasi 2 beautiful beaches are available. The beach of Mikro and Megalo Seitani. They are not easy to reach but you can ask a local fisherman to take you there or follow a specific path. The turquoise waters and sandy beach will compensate you upon arriving to both of them. Karlovasi is also where The School of Sciences of University of the Aegean is located. Before taking a ferry from Karlovasi do not forget to visit an area called "tampakika" where the old tanneries and tanning museum is found.
The town has a population of 6.708 inhabitants. It produces olives, oil, excellent wine, grains, raisins, honey and figs. Ferry routes Karlovassi are available from the port of Piraeus. There are also connections from Chios, Lesvos, Ikaria and Fourni.
Schedules & Prices Karlovasi
Choose your departure port and date and get all current ferry schedules and prices for Karlovasi!
Discounts & Offers Karlovasi
Ferry Port Karlovasi - How to get there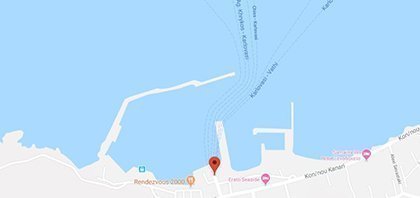 Karlovasi Port
832 00 Karlovasi, Samos, Greece
Tel.: +30 227 302 7318
GPS: 37.794843, 26.683518
Popular Routes from & to Karlovasi (Samos)