Camping on Board advantages
All passenger Cars & Trailers
Ferry to Piraeus
Passengers travelling by ferry to Piraeus arrive at the largest passenger port in Europe and the third largest in the world!
Travelling to the Destination Piraeus
Serving about 20 million passengers annually, the port town Piraeus consists of three port sections: the main port Karpathos, Mikrolimano and Zea. A stone lion guards the entrance of the port.
Tourists travelling to the destination Piraeus visit one of the most beautiful cities of Greece. The blue sea and the huge harbour are omnipresent and thus shape the picture of the city. Walking around in the harbor tourists can get a lot of interesting impressions and a sense of the city. The scenic atmosphere of Piraeus is also influenced by the numerous fisherman boats that come and go ceaselessly. Beyond that, Piraeus has to offer a vibrant nightlife with its numerous restaurants and cafes. There are also a famous flee market on Sundays in Mavromichali and Dragatsaniou street and many other places of cultural and archaeological significance. Therefore, tourists who travel back with ferries from Piraeus should have seen the archaeological museum. The museum was built in 1935 and renovated in 1966 and hosts sculptures of great buildings from the 5th and 4th century BC like for example the Mother of the Gods dating back to the same centuries, bronze statues from the Classical age and Roman and Greek selections of statues from Piraeus. There is also a ship museum in Piraeus, a theatre and many gorgeous churches. Piraeus has always been a junction of maritime traffic and therefore desirable as a strategic place for trade. Historical battles and victories have left their traces with the numerous monuments.
Piraeus covers an area of 10, 86 square kilometres with a population density of 15,1 inhabitants per square kilometre.  Approximately 851,000 people live in Piraeus. Of course ferry routes Piraeus are considerable. From the port routes to the Saronic Island group (Poros, Hydra, Salamis, Aigina, Angistri, Methana and Spetses) and to the Cycladic, Dodecanese and the northern Aegean islands are executed among others. Please fill the fields of isFerry's booking engine with details of your choice and generate in real-time the Piraeus ferry timetable.
Schedules & Prices Piraeus
Choose your departure port and date and get all current ferry schedules and prices for Piraeus!
Discounts & Offers Piraeus
Ferry Port Piraeus - How to get there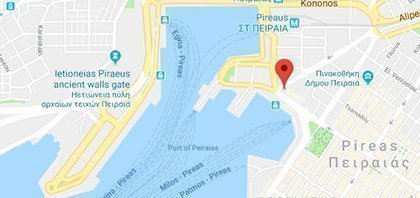 185 45 Piraeus, Greece
Tel.: +30 210 455 0100
GPS: 37.945465, 23.642767
Popular Routes from & to Piraeus