Camping on Board advantages
All passenger Cars & Trailers
Ferry to Kusadasi
Passengers travelling by ferry to Kusadasi arrive at a resort town on Turkey's Aegean coast, seaside district center of the Aydın Province!
Travelling to the Destination Kusadasi
Situated along the Kusadasi gulf, the city caters to tourists arriving by land or from the port for cruise ship passengers heading to Ephesus. Visitors in Ephesus have the chance of exploring a site whose history began 3000 BC and one of the most beautiful cities in ancient times, birthplace of the philosopher Heraditus and home to many civilizations over the years.
When travelling to the destination Kusadasi, passengers debark in the newly renovated port which attracts luxury cruise liners from all over the world. They might want to visit the well known beaches that the area of Kusadasi features. One of the beaches is in Dilek national park near Kusadasi, which is a natural beauty where tourists can enjoy walking and picnics and go swimming throughout the summer months. Passengers should also visit the Fish Market, which is on the right before coming to the port and where they can find the fresh catch of the day. There are many good fish restaurants to eat daily fresh fish and also cafes, shops and a fishing tools market. At the local fishers' cafe with the nice sea view, visitors can enjoy Turkish tea and take in the atmosphere.
Ferry routes Kusadasi include daily ferry services to the nearby Greek island of Samos. The area of Kusadasi has been a center of art and culture since some of the earliest recorded history and is very popular with people who are interested in educational trips.
Schedules & Prices Kusadasi
Choose your departure port and date and get all current ferry schedules and prices for Kusadasi!
Discounts & Offers Kusadasi
Ferry Port Kusadasi - How to get there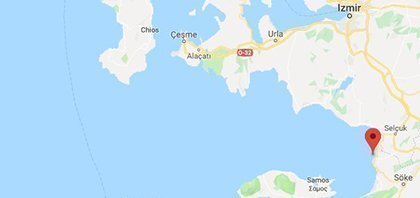 Camikebir Mahallesi, 094 00 Kuşadası / Aydın Province, Turkey
Tel.: +90 256 614 1581
GPS: 37.862565, 27.255315
Popular Routes from & to Kusadasi