Camping on Board advantages
All passenger Cars & Trailers
Ferry to Lavrio
Passengers travelling by ferry to Lavrio arrive at a small and easygoing town in south-eastern part of Attica in Greece!
Travelling to the Destination Lavrio
Laurium or Lavrion or Lavrio is the seat of the municipality of Lavreotiki. The Athenian State used the silver from Lavrio's silver mines for coinage. Much of the story of these mines is shown in the Archaeological Museum of Lavrion. As a sea port, the town is less important than the nearby port of Piraeus. The port is in the middle and grided streets cover the residential area of Lavrio.
When travelling to the destination Lavrio one comes back from the island of Kea (Tzia), but during summer also from other islands of the Cyclades complex. The last years the port has been renovated and expanded in order to host many more ferries as it is in great location, closer to many islands than is Piraeus but also not far from the airport (35km away). Before leaving with the Ferry from Lavrio, passengers should take the time and visit the oldest amphitheatre in Greece...over 3,000 years old. It is called Thoriko and is situated just outside of Lavrio. The Mineralogical Museum of Lavrion is also worth a visit, as it displays some of the most important aspects of the region's natural wealth.
Ferry routes Lavrio connect the port with Kea (Tzia), Kythnos, Syros, Mykonos, Paros, Naxos, Ios, Sikinos, Folegandros, Kimolos, and Milos. Tinos and Andros are also destinations that are connected with Lavrio port as are the ports of Agios Eustratios, Limnos and Alexandroupolis. Being located about 60 km south east of Athens and very close to Athens's International Airport, Lavrio is a good starting point for you exploration of the Greek islands. Through Lavrio ferry timetable you can plan and organize your holidays in Greece.
Schedules & Prices Lavrio
Choose your departure port and date and get all current ferry schedules and prices for Lavrio!
Discounts & Offers Lavrio
Ferry Port Lavrio - How to get there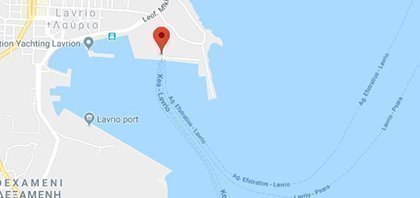 Akti Papandreou Andrea, 195 00 Lavrio, Greece
Tel.: +30 229 202 2089
GPS: 37.712269, 24.063189
Popular Routes from & to Lavrio