Camping on Board advantages
All passenger Cars & Trailers
Ferry to Myli
Passengers traveling by ferry to Myli reach a small port on the island of Angistri in the Saronic Gulf, very close to Athens!
When traveling to the destination Myli, also known as Megalochori you reach the capital of the island. Its name comes from a windmill situated at the end of the village. Myli has developed greatly over the last years and you can see that by looking at the modern hotel units built among the traditional buildings.
Visitors taking a ferry to Myli will reach the largest settlement of the island.  While in Myli one can pay a visit to the Church of Zoodochos Pigi in the center of the settlement. There you can admire the church's remarkable wall paintings of Renaissance style. If you are lucky enough to be there during Easter time you can also take part in its glorious celebration. Before leaving with a ferry from Myli you can also visit its cultural center with many interesting findings from the excavations around the island. The village has two beaches close by. One on the right, offering sun umbrellas and chairs where you can enjoy, along with your swim snacks, cold refreshments and fresh drinks and one on the left with sand and pebbles for a more relaxed time. Both have crystal clear waters.
Myli has a population of 561 inhabitants. Myli ferry routes are operated from the port of Piraeus with daily departures of Flying Dolphins. The duration of the trip is around 55 minutes. Please check the Myli ferry timetable through the above real-time booking engine.
Ferry Port Myli - How to get there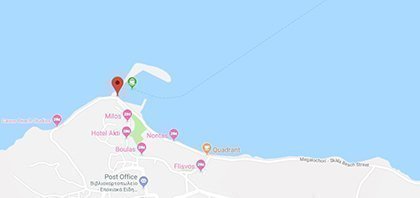 Myli Port
Megalochori, 180 10 Angistri, Greece
GPS: 37.713220, 23.346254
Popular Routes from & to Myli (Angistri)