Camping on Board advantages
All passenger Cars & Trailers
Ferry to Athens
Passengers who are on board the ferry to Athens are approaching Greece's ancient capital with perennial history as well as being the birthplace of democracy!
The biggest city and capital of Greece, Europe's oldest city and one of the oldest in the world, carrying a very interesting and rich background, Athens is a place in the world which should definitely be visited at least once in a lifetime. The name derives from the Greek mythology's Goddess Athena, one of the 12 Olympian Gods who was associated with wisdom. The city of Athens is also very famous for being the birthplace of today's democracy, for its hundreds of theaters, for its compelling architecture which combines ancient, neoclassical and modern styles and for being named as the European Capital of Culture. Furthermore, the ancient soldier Pheidippides, after the victory in the battle of Marathon, ran to Athens (42 km) to deliver the news and thus, the worldwide known marathon race event was created hosting thousands of athletes.
Please, keep a note that Athens ferry tickets run out extremely fast so book in advance your ferry to Athens to secure them and enjoy a delightful vacation.
How to Get to Athens
For the reason of being the capital of Greece, getting to Athens can be easily achieved from any major city in Greece and from Italy with the use of big ferries which grant passengers many accommodation options and amenities. Starting from the ports in Athens, visitors are able to spread in the spectacular islands of the Aegean Sea.
From Italy
Every year, thousands of tourists from Europe arrive in Italy and board the ships towards Greece to spend their vacation either on the mainland or on its dreamy islands in the Ionian and Aegean Seas. It is notable to mention that tourists have the privilege to camp on board in their caravans during the journeys.
In our Italy to Greece page you have the opportunity to find all the relative information.
From Patras
Patras in Peloponnese, is the third biggest city and owns the 2nd busiest port in Greece. It is considered to be the main access point for travelers coming from Italy. Patras is relatively close to Athens, thus the journey time does not go above 3 hours. Keep also in mind that Patras is well connected with Kyllini in west Peloponnese.
In order to learn more, please visit Patras to Athens Transportation.
From Igoumenitsa
Igoumenitsa is a port city in the northwest of Greece and is one of the main entrances by using a ferry from the western countries like Italy. Igoumenitsa is connected to Athens via bus or car.
Please, click on Igoumenitsa to Athens so as to get further advice.
Corfu to Igoumenitsa
It is good to know that the city of Igoumenitsa is linked with Corfu in the Ionian Sea by frequent and all year around ferries. The distance between them is relatively short and thus, the journeys do not last long.
Albania to Corfu
The port of Corfu is the sea gate from Albania to Greece. More specifically, the trip from Saranda to Corfu occurs throughout the entire year with several daily connections that can last from 30 to 70 minutes depending on the vessel type.
Ferry Connections from Athens
Starting from the ports of Athens, you are able to cross the majestic Aegean Sea and stopover at the marvelous islands of Greece. It is also possible to continue your journeys to Turkey's coast and feel the magic of the orient.
More accurately, all three ports of Athens (Piraeus, Rafina, Lavrio) are very well connected with the Cyclades Islands such as Naxos, Paros, Ios, Tinos, Syros, Mykonos, Santorini and more.
Piraeus is also linked with the Dodecanese like Kalymnos, Karpathos, Kos, Patmos and Rhodes. It is worth mentioning that ferry routes to Crete are also included and in summer months, depending on the demand, Crete is linked with Rafina too.
After reaching the Dodecanese Islands Kos and Rhodes while also Chios of North Aegean, travelers can continue their maritime adventures towards the magnificent coast of Turkey that includes Bodrum, Cesme, Fethiye and Marmaris.
Athens Ferry Ports
Athens is reachable by anywhere in Greece either with ferries, planes, public means of transport (KTEL bus, train) or by driving your car / camper along the wide national roads which are linked to the center. Depending on where you are starting from, the choices you have differ.
Furthermore, Athens possesses 3 ferry ports and these are the ports of Piraeus, Rafina and Lavrio. Piraeus is by far the largest and busiest, also the most active and is situated a few kilometers western of the capital. Passengers are able to enjoy a coffee or a snack before their departure, in one of the many places nearby, go sightseeing or they can even make a short stop in the center of Athens which is very well and frequently connected with Piraeus by the public means.
The port of Rafina is situated eastern of the capital and very close to Athens International Airport "Eleftherios Venizelos". The distance between Athens center and Rafina can be covered in less than an hour by using the public means while by driving, due to the presence of the convenient wide road Attiki Odos, the time is reduced adequately. Rafina is an exotic place with a green environment and plenty of places around to keep you occupied before your journeys.
The port in Lavrio is the smaller of the three, being southeast of Athens. Buses need a little less than 2 hours to arrive in the port while the big roads help drivers to reach it fast and efficiently. Like Rafina, Lavrio is alluring with its nature and many coastal bars and cafeterias around.
Athens Holidays
Athens tourism is high all year long while in summer, it reaches its peak with people traveling from all around the world to witness its jewels. You will surely need more than a couple of days in order to enjoy the city to the fullest since the landmarks and the entertainment places are few.
To start with, spend a day at the very center of Athens where most of the points of interest are situated. Stroll around the streets around Monastiraki Square, full of shops, traditional taverns and bars with a spectacular view over the Acropolis and Parthenon. Make tours in other famous neighborhoods such as Plaka, Anafiotika, Kolonaki, Syntagma Square and stop for a Greek meal anywhere. Do not forget to pay a visit to the Ancient Agora, Monument of Philopappos, Mount Lykavitos, National Garden, Temple of Zeus, Kallimarmaro and Megaro Mousikis. Make sure to explore Athens by night and its many crowded graphical bars and restaurants among a magical and warm atmosphere.
Continuing, the suburbs of Athens must not be put aside. They include stunning areas and views for sightseeing, especially in summer months for the reason that most of them are coastal towns and it is where all Athenians go and spend their weekends or for a day trip away from the noise of the bustling center. You can also find some fine hotels in the suburbs of Athens, both luxurious and budget-friendly.
North of Athens, inspect the upper-class towns of Kifisia, Ekali, Psychiko, Pendeli, Marousi and Chalandri with their villas, expensive shops, eating places and lounge bars. Close, you will find two big shopping malls bustling with people all day long. You will not need more than half an hour from the center to the northern suburbs by using public transportation.
The suburbs on the eastern side are seaside towns with clear waters and will give you the feeling that you are visiting an island. Everyday rhythms go by slower there and the atmosphere is relaxing and stimulative. Swim at the beaches in Nea Makri, Rafina, Artemida and Porto Rafti, continue with some seafood escorted with ouzo in a tavern on the sand or try the famous Greek souvlaki and later on, chill in a lounge café for an espresso or an ice cream. For those who want to combine education with holidays, next to Nea Makri is the village of Marathon, the starting point of the marathon race. It is also worth mentioning, that Athens International Airport "Eleftherios Venizelos" abstains less than half an hour from Rafina.
The southern suburbs include some stunning seaside places such as Palaio Faliro, Alimos, Glyfada, Vouliagmeni Lavrio, Sounio, Anavyssos and Lagonisi. There, you can also enjoy the turquoise sea relaxing in a crowded beach bar with loud music or stroll around the promenades, especially when the sun sets and the scenery is quite romantic. There, nightlife in summer goes crazy since there are huge clubs where famous DJs and parties till morning hours are hosted.
In the west side of the capital, Egaleo, Piraeus, Nikaia, Peristeri, Chaidari and more, are mostly not seaside cities, except for Piraeus where Greece's biggest and busiest port is situated. Though, they will certainly keep you busy with their landmarks and history, also with their big markets and various graphical taverns and cafeterias.
Athens is very well connected with its suburbs and there are many frequent trains, metros, trams and buses every day. In order to get more detailed information about the schedules and stops of the public means of transportation around the city, please, visit Transportation in Athens. 
There are also plenty of yellow taxis passing through almost every street, so it will not be hard to find one but if you want to be provident, you can always book one in Athens Taxis. 
Day Trips from Athens
Athens is surrounded by small graphical islands which can be visited even for a day, starting from early in the morning and leaving at night. There are many daily ferries that connect the capital with them and they serve as great options for escape from the city's rhythms.
The most popular day trips from Athens are made to the Saronic Gulf Islands such as Aegina, Angistri, Hydra, Poros and Spetses as well as to Kea (Tzia), Kythnos and Evia.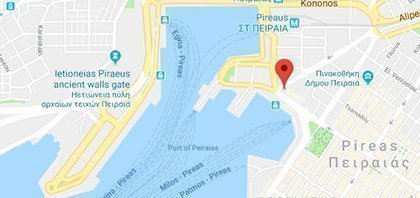 185 45 Piraeus, Greece
Tel.: +30 210 455 0100
GPS: 37.945465, 23.642767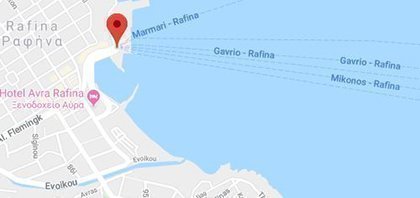 10, Akti Andrea Papandreou, 190 09 Rafina, Greece
Tel.: +30 229 402 2840
GPS: 38.022754, 24.010269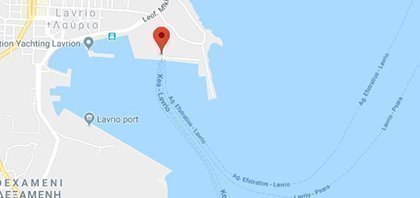 Akti Papandreou Andrea, 195 00 Lavrio, Greece
Tel.: +30 229 202 2089
GPS: 37.712269, 24.063189