Camping on Board advantages
All passenger Cars & Trailers
Ferry to Palermo
Passengers travelling by ferry to Palermo visit a city whose history is 2700 years old and has much to offer in terms of culture and gastronomy!
Travelling to the Destination Palermo
The city of Palermo is located in the northwest of the island of Sicily in the Tyrrhenian Sea and features 2700 years of history. Its culture, architecture and gastronomy are well known and appeal to a lot of people. Being located by the Gulf of Palermo, the city attracts thousands of tourists throughout the year mainly for the beaches and the city itself. Palermo is a vibrant place with plenty to see and do. Tourists from all over the world will find warm, Mediterranean weather and plenty of sunshine all year round.
Travelling to the destination Palermo means to visit a city with a large architectural heritage and many Norman buildings. The Palermo Cathedral, which is located at Corso Vittorio Emanuele, has a long history which has led to an accumulation of different architectural styles and is definitely a point of interest for tourists, as it is listed in the UNESCO World Heritage sites. So are numerous other churches and palaces in Palermo. Before leaving with ferries from Palermo, visitors should go on a trip to Mount Etna. Even though visiting the volcano can be dangerous, the smoking and ash puffing mountain makes great postcard shots.
Ferry routes Palermo link Palermo to Cagliari, Genoa, Livorno, Naples, Tunis and other cities and serve a total of almost 2 million passengers annually. Ferries depart from the port of Palermo, which was founded by the Phoenicians over 2,700 years ago. Together with the port of Messina, it is the main port of Sicily. Through the Palermo ferry timetable, travellers can plan and organize their holidays in that great city of south Italy. They will be thrilled by the beauty of the region and the exciting nightlife Palermo has to offer.
Schedules & Prices Palermo
Choose your departure port and date and get all current ferry schedules and prices for Palermo!
Discounts & Offers Palermo
Ferry Port Palermo - How to get there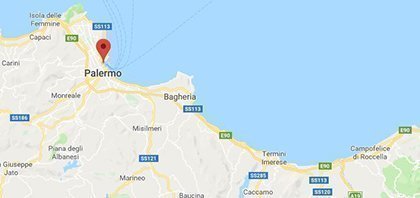 Molo Santa Lucia, 901 33 Palermo, Italy
Tel.: +39 091 627 7111
GPS: 38.128626, 13.362915
Popular Routes from & to Palermo