Camping on Board advantages
All passenger Cars & Trailers
Ferry to Piombino
Passengers travelling by ferry to Piombino arrive at an ancient naval base, worldwide famous as a cargo terminal but also for passenger management! 
Travelling to the Destination Piombino
Tourists travelling to the destination Piombino discover a port of great importance and the second of Tuscany after Livorno's. Apart from the port, Piombino's historical heartland is small, fact that makes it very easy to explore even on foot. "My little Paris" as it was called by Napoleon's sister, Elisa Bonaparte in the 19th century was also Simonetta Cattaneo Vespucci's (nymph of Renaissance) town throughout the 15th century, Botticelli's Venus. Leonardo da Vinci's mark is in Piombino too due to the fact that he strengthened the city's defenses, the walls of Cittadella. The enormous tower of Torrione is the city's most ancient monument or else, the gate of St. Antonio along with the colossal walls around it called Rivellino were built in 1221 and 1447 respectively. Next, there is Piazza Bovio which, in order to be reached, you must first cross the elegant road Corso Vittorio Emanuele. There you can find many good restaurants, boutiques and bars to rest and eat some traditional food. At the end of the street, Piazza Bovio is witnessed and the dazzling view of the Tuscan sea and Elba cannot be missed especially at night considering that it is very romantic for couples. Opposing the square and after climbing viale del Popolo you achieve the castle Cassero Pisano built in the 13th century, where you can catch some really good views. Along with the castle is the Medici fortress (Cosimo de' Medici) and these two form an old military jail until 1959. Last but not least, the rocky beach below Ex-Macelli is a very nice place for a swim and is recommended by the locals unlike the beach next to Piazza Bovio.
Piombino is a town with 35.000 inhabitants and is located about 100 km south of Livorno, among the Ligurian and Tyrrhenian seas in the face of Elba. Ferry routes Piombino are available from Cavo, Olbia, Portoferraio, Rio Marina, Bastia and Pianosa and most of them running in winter months aswell.
Schedules & Prices Piombino
Choose your departure port and date and get all current ferry schedules and prices for Piombino!
Discounts & Offers Piombino
Ferry Port Piombino - How to get there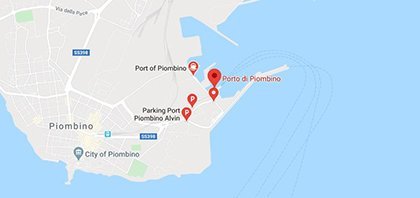 Piazzale Premuda, 6a, 57025 Piombino LI, Italy
Tel.: +39 056 522 9210
GPS: 42.929288, 10.545881
Popular Routes from & to Piombino