Camping on Board advantages
All passenger Cars & Trailers
Ferry to Portoferraio
Tourists voyaging by ferry to Portoferraio disembark at the same port where the Argonauts of Greek mythology did as well in search of the Golden fleece!
Travelling to the Destination Portoferraio
When travelling to the destination Portoferraio, the called "Iron Port" for its big iron mills which where exploited by Napoleon Bonaparte in the XIX century, passengers are soon going to find the city's treasures and rich history. The great strategist Napoleon was abdicated from his throne and was exiled in Elba in 1814 and more specific, in Portoferraio where he brought extreme growth to the entire island using the iron mills and the port's location to ship iron towards the mainland improving the quality of living of the people. It is also believed, according to the worldwide famous Greek mythology that the city is the place where the Argonauts were on a quest seeking the Golden fleece, an object with the power of healing all kinds of wounds. Portoferraio is the capital of Elba and the most popular and visited destination of the Mediterranea's pearl, the island itself. Touring in the town, visitors may discover many beauties. To start with, San Martino and Villa de Mulini are the remaining two villas Napoleon used to live and are interesting to take a look. The city's most famous attraction though, are the three bastions (Falcone, Stella and Linguella), connected by huge walls forming a fortress which used to protect the city from sea threats. For those who want to study more about the place's history there is no other place than the Archeological Civil Museum. San Giovanni thermal baths, the only springs on the island and the close town Le Grotte where there is a Roman villa with great ocean view and a heated pool are for sure two more interesting sights. Amusement combined with vacation cannot be skipped, so observing the international jazz and classical music festival taking place at the ancient church now being a theater called "Vigilanti Theatre", is surely a fun thing to do. A food event also occurs with the name "Polpand e gli Antichi Sapori" and the main dish is nothing else than seafood and more specific, octopus. Last but not least, the beaches cannot be missed out. Some sandy ones are Punta Pina and Biodola located in the south while in the east there are the rocky ones, Bagnaia, Ottone and Le Ghiaie.
Portoferraio is located in the northern Elba with the population of approx. 12.000 citizens. Ferry routes Portoferraio are occuring from Piombino and Cavo especially in summer months.
Schedules & Prices Portoferraio
Choose your departure port and date and get all current ferry schedules and prices for Portoferraio!
Discounts & Offers Portoferraio
Ferry Port Portoferraio - How to get there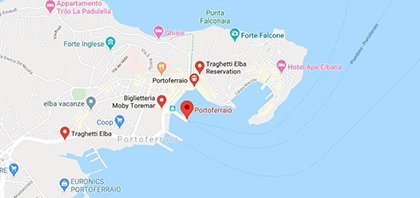 Calata Italia, 44, 57037 Portoferraio LI, Italy
GPS: 42.811688, 10.322611
Popular Routes from & to Portoferraio