Camping on Board advantages
All passenger Cars & Trailers
Ferry to Saranda
Passengers travelling by Ferry to Saranda experience the beauties of the Albanian Riviera, the town of Agioi Saranta opposite of Corfu!
Travelling to the Destination Saranda
Thanks to its access to the close beaches and its Mediterranean climates it has become a tourist hot spot. Once a fishing village, Saranda is now a town with a busy seaside promenade offering all kinds of goods and services. It's a destination with beautiful landscapes combined with very low prices.
Albania's rugged coastline, with its traditional villages situated on isolated and golden sandy beaches surrounded by turquoise waters, is a revelation for those ttravelling to the destination Saranda. Lekuresi Castle is an attraction one should visit. The castle once enclosed a whole settlement but today has only a few ruins remaining. It's situated on the top of a hill offering to the visitor a stunning view of the sea going all the way to the island of Corfu.  Butrint is an impressive archaeological site surrounded by small farms that takes you from Ancient Greece to present time. Ksamil Village is a small seaside village on a creek with blond sand beaches and clear blue waters from where you can visit with small boats three small green islands nearby. You cannot take a ferry from Saranda and have not visited Blue Eye (Syri Kalter). A beautiful and lush landscape, with the waters of the river emerging from a fifty-meter-deep pool.
Saranda has a population of 41.173 residents whose main occupation is tourism along with fishing and construction. Ferry schedules to Saranda start from the port of Corfu.
Schedules & Prices Saranda
Choose your departure port and date and get all current ferry schedules and prices for Saranda!
Discounts & Offers Saranda
Ferry Port Saranda - How to get there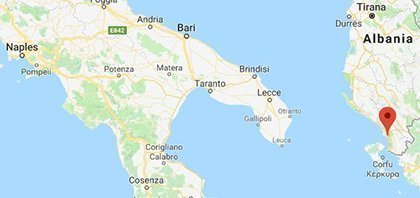 Sarandë, Albania
Tel.: +355 85 222 235
GPS: 39.871529, 20.003385
Popular Routes from & to Saranda