Camping on Board advantages
All passenger Cars & Trailers
Ferry to / from Brindisi
Passengers travelling by ferry to / from Brindisi reach one of the most important port cities of the coast of the Adriatic Sea!
Travelling to the Destination Brindisi
Over the centuries Brindisi was conquered among others by the Romans and the Normans. It even became an Islamic emirate for some time in the 7th century. The Roman poet Vergil is said to have passed away on a journey to Brindisi. Since 1994 the UN Logistics Base is deployed in the city. They are responsible for the coordination of the UN peacekeepers.
Those travelling to the destination Brindisi should have enough time to explore the numerous sights that the city has to offer. The Aragonese Castle was built in 1491 and used for defending the city. Together with the slightly shorter castle "Svevo" it belongs to Brindisi's most important monuments. The arcade "Porticato De Cateniano" cannot be missed due to its central location at cathedral square. The Archaeological Museum of the Province, the loggia of "Palazzo Balsamo" and the Diocesan Museum are easily accessible too. The archaeological site of "San Pietro degli Schiavoni", the remains of the five mud basins for drinking water treatment and the Tancredi fountain are not far away from the city center. Tourists should attend one of the many traditional festivals. The processions on the sea of the saint protectors, the "Cavallo Parato" and "Osana" are the most worth seeing.
In addition to the International Airport, Brindisi has a large ferry port. Ferry routes Brindisi link Italy with Greece and Albania.
Schedules & Prices Brindisi
Choose your departure port and date and get all current ferry schedules and prices for Brindisi!
Discounts & Offers Brindisi
Ferry Port Brindisi - How to get there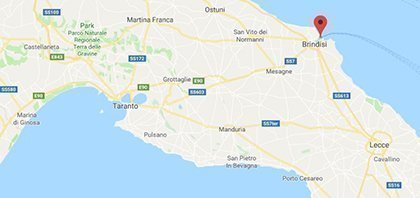 Via Regina Giovanna di Bulgaria, 721 00 Brindisi, Italy
Tel.: +39 083 156 2650
GPS: 40.646775, 17.962692
Popular Routes from & to Brindisi