Camping on Board advantages
All passenger Cars & Trailers
Ferry to Sitia
Passengers travelling by ferry to Sitia arrive to the northeast of the island Crete, in the prefecture of Lasithi!
Travelling to the Destination Sitia
The birthplace of the poet Vichentsos Kornaros creator of "Erotokritos", is a seaside town amphitheatrically built, with the fortress of the Castle (or else Kazarm) dominating over the settlement. The town of Sitia with the harbor packed with fishing boats and the coastal promenade for walks by the sea, has preserved its authenticity despite the large number of tourists flocking during the summer months.
Guests travelling to the destination Sitia wish to spend their holidays in a tranquil place with friendly residents maintaining their Cretan tradition. Sitia and the surrounding area offer opportunities for great archaeological explorations. It is worth visiting Kazarma, a fortified building of the medieval period that was restored and hosts the cultural events of Cornaria. Other places one can visit are the Archaeological Museum with findings from the wider region, the Folklore Museum with exhibits of the 19th and 20th century and Ancient Itamos that flourished until the Byzantine years thanks to the purple trade. The beaches of Erimoupolis, Makrygialos, Xerokampos, and Goudri are ideal choices for a swim. Those you leave Sitia with a ferry will always remember the famous beach of Vai with palm trees and white sand.
The dry climate of Sitia affects the scenery that displays African features, hills, valleys, steep mountains and exotic bays. Ferry routes Sitia depart from Piraeus port connecting Crete with Cyclades, Milos, Santorini and Anafi. They also serve the line to Heraklion and Dodecanese Islands, Kasos, Karpathos, Chalki and Rhodes.
Schedules & Prices Sitia
Choose your departure port and date and get all current ferry schedules and prices for Sitia!
Discounts & Offers Sitia
Ferry Port Sitia - How to get there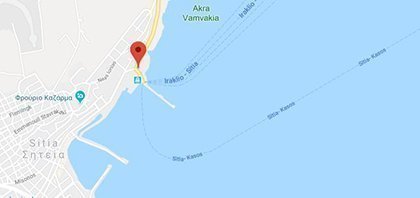 33, Emmanouil Rouselaki, 723 00 Sitia, Crete, Greece
Tel.: +30 284 302 2310
GPS: 35.213002, 26.111584
Popular Routes from & to Sitia