Camping on Board advantages
All passenger Cars & Trailers
Ferry to Crete
Passengers traveling by ferry to Crete will arrive at the largest island of Greece and the fifth largest in the Mediterranean Sea!
Crete is located 160 km south of the Greek mainland in the Southern Aegean Sea constituting the natural border between the Aegean and the Libyan Sea. The capital and largest city of Crete is Heraklion. Two of the highest mountain ranges of Greece are located on the island, the Idi range with Mount Psiloritis being the highest (2456 m) and the Lefka Ori range (White Mountains).
Tourists traveling to the Destination Crete should have enough time to visit all the sights that Crete has to offer. From 3000 BC to 1400 BC Crete was the center of Europe's first advanced civilization, the Minoan. The most significant centers of that civilization were Knossos, Kidonia and Festos. Except for their palaces, there are a lot of museums on the island and of course, magnificent sandy beaches. Tourists should also at least attend a traditional festivity or a Cretan wedding. Crete is famous for its traditionally, almost ritually practiced customs.
Ferry routes Crete are ample. Daily connections are executed from and to Piraeus, Karpathos, Santorini, Rhodes, Ios, Naxos and Mykonos. Except for the big ferry ports in Heraklion, Chania and Rethymno, there are also smaller ones in Agios Nikolaos, Sitia and Kissamos (Kasteli).
Ferry Port Crete - How to get there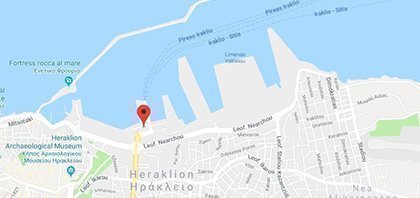 Leof. Nearchou, 713 07 Iraklio, Crete, Greece
Tel.: +30 281 033 8116
GPS: 35.342108, 25.142767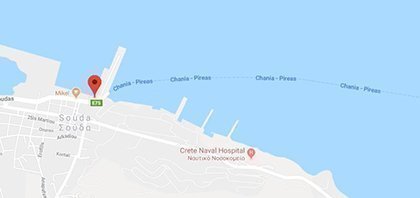 Ormos Soudas, 732 00 Souda, Chania, Crete, Greece
Tel.: +30 282 108 9240
GPS: 35.489015, 24.075757
Popular Routes from & to Crete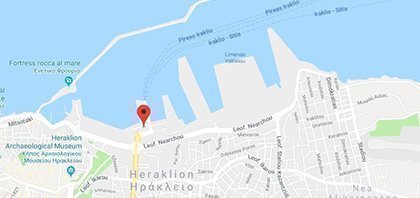 Leof. Nearchou, 713 07 Iraklio, Crete, Greece
Tel.: +30 281 033 8116
GPS: 35.342108, 25.142767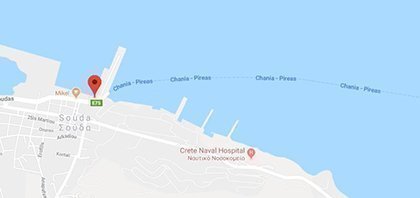 Ormos Soudas, 732 00 Souda, Chania, Crete, Greece
Tel.: +30 282 108 9240
GPS: 35.489015, 24.075757
Popular Routes from & to Crete