Camping on Board advantages
All passenger Cars & Trailers
Ferry to Tilos
Passengers travelling by ferry to Tilos will find themselves in the Dodecanese island group in the south east of the Aegean Sea!
Travelling to the Destination Tilos
The island Tilos is the 7th biggest island of Greece (61 km2). Though, the island has a popularity of only ca. 533 inhabitants. This fact makes the island a very good destination for relaxing.
Tourists travelling to the destination Tilos have all the "time in the world" to relax and chill. The island is dominated from mountains, the highest top, Profitis Ilias, reaches almost 650 m. In the center of the island a small plain leads to one of the nicest beaches of the island Eristos. A second beautiful beach of Tilos is Plaka on the North West side of the island. Before leaving with the ferries from Tilos do not miss to visit one of the many archeological sites. The cave of Charkadio in Missaria and the small elephant cemetery are the most popular. Some of its foundlings are exposed at the small paleontological museum.
Ferry routes Tilos are well developed and depart from Rhodes and the port of Piraeus in Athens. IN the summer months travelers can also reach the island with the high speed ferries, conventional ferries run in the winter time. In order to see the Tilos ferry timetable and gain more useful information about the ferry trip to Tilos, please, use the above real-time booking engine.
Schedules & Prices Tilos
Choose your departure port and date and get all current ferry schedules and prices for Tilos!
Discounts & Offers Tilos
Ferry Port Tilos - How to get there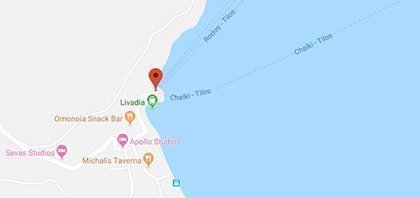 850 02 Tilos, Greece
Tel.: +30 224 604 4350
GPS: 36.417295, 27.386145
Popular Routes from & to Tilos