Camping on Board advantages
All passenger Cars & Trailers
Ferry to Albania
Passengers who are traveling by ferry to Albania are reaching a small country on the west of the Balkan Peninsula which is facing the Adriatic and Ionian Seas!
Board on the ferry to Albania and explore a beautiful country facing both the Adriatic and the Ionian Seas. Every year, thousands of tourists visit Albania and have perfect vacations combining sunbathing in its long sandy beaches, hiking in the many mountainous terrains such as on the Albanian Alps, sightseeing and shopping.
Tourism in Albania increases greatly in summer due to the fact that its coast is very lively with plenty of beach bars, hotels and restaurants while the waters are stunning. The most high-traffic cities in Albania and more specifically in the Albanian Riviera are Durres, Vlora, Ksamil and Saranda and deeper in the mainland, the capital Tirana and Petrele, Elbasan, Fier, Gjirokaster and Korce.
During your tour in Albania, there are many more things to do except for spending time at the beaches. Most of its part is mountainous, thus it provides graphical traditional villages and interesting hiking paths with dazzling views as a payoff. Moreover, Albania's history and landmarks are very compelling and attractive and knowing better where you are stepping your feet on will definitely make your vacation even more enjoyable.
The Albania country is adjacent to Montenegro and Kosovo on the north, North Macedonia on the east, Greece on the south and is facing Italy's Bari on the west.
Albania's main port is Durres while the ones in Vlora and Saranda follow. There are many ferry connections throughout the year especially to and from Italy with the most popular ferry route being the Bari to Durres.
Book your ferry tickets to Albania in advance so as to have it all planned for your vacations and also to make sure that you find capacity at your desired dates.
Getting to Albania by Ferry
Albania's location makes it easily accessible with a ferry from Italy and Greece. Every year and especially in summer period, which starts from May and ends in late September, there are many ships which cross both the Ionian and the Adriatic serving routes from and to Albania. Depending on where your starting point is and with what type of vessel you are traveling with, the sailing durations vary. 
Italy Albania Ferry
The ferry itineraries from Italy to Albania take place all year long with at least one crossing per day. In order to reach the Albanian coast, you will firstly have to enter either the port of Bari or the port of Brindisi in the southern part of Italy.
Bari to Durres
The Bari to Durres ferry route is operated by big conventional ships which have the capability of carrying cars and campers. The average duration is 10 hours so, in order for your journey to be comfortable and enjoyable, you should consider booking a bed cabin or an air type seat since those at the deck are not suitable for long voyages.
Brindisi to Vlora
The particular crossing, from Brindisi to Vlora, is much shorter from the above with an average sailing time of 7 hours with a conventional ship. The itineraries happen at least once a day.
Greece to Albania
There is only one way to travel from Greece to Albania and this is managed by firstly reaching the port of Corfu in northwestern Greece. After entering the port in Corfu, just board on the ship straight to Saranda. The distance between them is relatively short and the trip time is almost 1/2 hour.
Note that, getting to Corfu is achieved by the port of Igoumenitsa. More details in our Igoumenitsa page.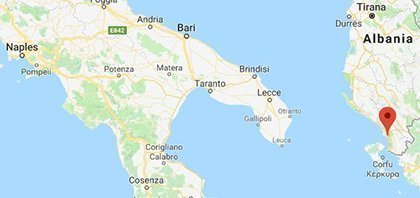 Sarandë, Albania
Tel.: +355 85 222 235
GPS: 39.871529, 20.003385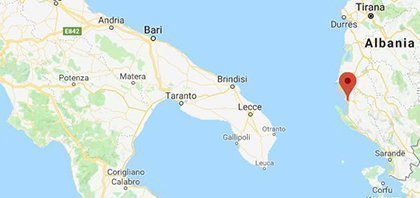 Vlorë, Albania
Tel.: +355 33 409 700
GPS: 40.452305, 19.483587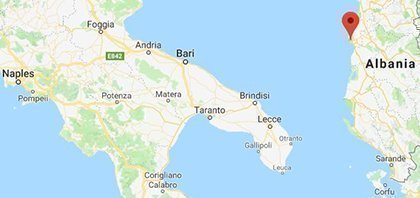 1, Rruga Tregtare Lagjja, Durrës, Albania
Tel.: +355 52 223 115
GPS: 41.316756, 19.454555