Camping on Board advantages
All passenger Cars & Trailers
Ferry to Igoumenitsa
Passengers travelling by ferry to Igoumenitsa arrive to a city that is a significant center of the Greek North regarding tourism and economy!
Traveling to the Destination of Igoumenitsa
Since the foundation of the university a few years ago, Igoumenitsa has grown. The city has one of the fastest increasing population densities in Greece. At the moment the rate is about 60 inhabitants per square kilometer. Syvota, Corfu, Parga and the Ionian Islands are easily accessible from Igoumenitsa and offer a lot of sights to see.
Tourists travelling to the destination Igoumenitsa have lots of options to pass their time. Sports and play grounds, the remains of a Turkish castle, which was conquered and destroyed by the Venetian Franis Morozines in 1685, beaches and a pedestrian zone which spans several kilometers and invites for a walk, create the town's picture. The locals' lively activity and vividness inspire people to take part. Those who are skilled in bargaining can pick up quality jewelry for reasonable prices at the bazaar or in shops. The siesta begins at 3 o'clock pm.
Ferry routes Igoumenitsa are well developed include connections from Bari, Brindisi, Venice and Ancona. In addition, there are connections to the islands Corfu, Paxos and Antipaxos. Paxos and Antipaxos, though, are not online available but can be booked at the local ferries. Igoumenitsa does not have an airport. The airports of Ioannina, Corfu and Preveza, though, are easily accessible.
Schedules & Prices Igoumenitsa
Choose your departure port and date and get all current ferry schedules and prices for Igoumenitsa!
Discounts & Offers Igoumenitsa
Ferry Port Igoumenitsa - How to get there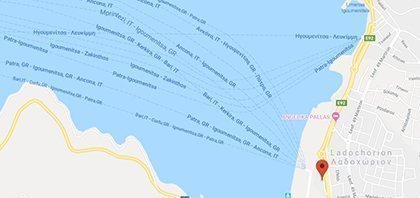 Central Passenger Terminal 2, New Port of Igoumenitsa
461 00 Igoumenitsa, Greece
Tel.: +30 266 509 9300
GPS: 39.488500, 20.259654
Popular Routes from & to Igoumenitsa