Camping on Board advantages
All passenger Cars & Trailers
Ferry to Alonissos
Passengers travelling by ferry to Alonissos will reach the the third biggest Island of the Sporades Island Group!
Traveling to the Destination of Alonissos
Next to the bigger islands Skiathos and Skopelos is the third biggest Alonissos. Morphologically the island Alonissos is separated in the northern mountainous and southern lowland area, thus having in the south all its settlements and in the north its wild and rocky coastline which builds together with the north side of the island Skopelos a continuous mountain arc.
Passengers travelling to the destination Alonissos reach an island with a very rich and specific flora and fauna. The ground of the island consists of limestone. On this ground grow spruces, olives, figs, almonds and vines. But before someone takes again the ferries from Alonissos he should give a visit to the wild beaches of the island where seals and wild pigeons live. In order to secure the wild life and the very good shape of the ecosystem of the sea in all, 1992 established the island the National Marine Park Alonissos.
The island is easily reachable from the port of Volos and the one of Agios Konstantinos and, of course, from the other islands of the island group of Sporades.
Schedules & Prices Alonissos
Choose your departure port and date and get all current ferry schedules and prices for Alonissos!
Discounts & Offers Alonissos
Ferry Port Alonissos - How to get there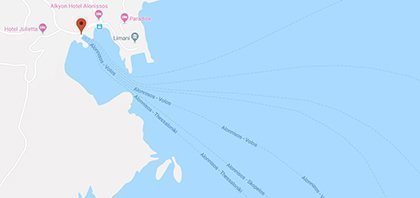 370 05 Alonissos, Greece
Tel.: +30 242 406 5595
GPS: 39.144063, 23.864534
Popular Routes from & to Alonissos