Camping on Board advantages
All passenger Cars & Trailers
Ferry to Skopelos
Passengers travelling by ferry to Skopelos arrive to the greenest island of the Aegean Sea with thick forests and a wild almost untouched nature!
Travelling to the Destination Skopelos
Skopelos lies in the south of the Sporades Group. 80% of its surface is covered by thick forests. It is said to be the greenest island in the Aegean. Despite the developed touristic infrastructure, Skopelos is not the most visited island of the Sporades. The neighboring island Skiathos is more cosmopolitan and leaves Skiathos behind with a rather traditional image of an island. Two mountains, Palouki (565m) and Delphi (680m) dominate the morphology of the island. The main town is called Skopelos or Chora. The economic center and main port of Skopelos are here.
Chora is a traditional little town with characteristic architecture and beautiful streets. Not only Chora but also the rest of the island is full of old, traditional churches and monasteries. 24 monasteries are mentioned. When travelling to the destination Skopelos, tourist should visit one at least. On the other hand visitors should also explore some of the variety of landscapes. The villages in the northern and eastern part of the island are located in rocky areas, in the southern and western part, though, the hillsides fall into the sea creating magnificent green bays with numerous long beaches.
Ferry routes Skopelos are well developed. They include daily ferry connections to Agios Konstantinos and Volos. In the summer the number of ferry rides is being increased. Various ferry operators offer conventional and high speed ferries as travel options.
Schedules & Prices Skopelos
Choose your departure port and date and get all current ferry schedules and prices for Skopelos!
Discounts & Offers Skopelos
Ferry Port Skopelos - How to get there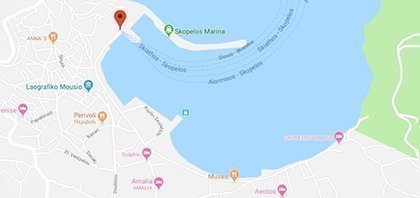 Skopelos Town, 370 03 Skopelos, Greece
Tel.: +30 242 402 2180
GPS: 39.123826, 23.729323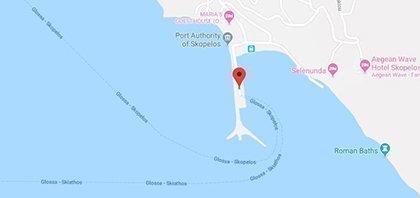 Glossa Port
370 03 Skopelos, Greece
Tel.: +30 242 402 2180
GPS: 39.165953, 23.613133
Popular Routes from & to Skopelos