Camping on Board advantages
All passenger Cars & Trailers
Ferry to Arbatax
Passengers travelling by ferry to Arbatax will quickly discover the red porphyric cliffs which are coming out of the island's crystal-clear waters!
Travelling to the Destination Arbatax
Arriving at Arbatax, the beauty of this small town included in Sardinia's coast is not hidden. Big red rocks coming out from the sea form a magical landscape, especially in spring where the combination of the porphyric cliffs, the white sand and the crystal-clear waters are a sight beyond imagination. 
The village's name derives from Arabic (arba 'at' ashar) and its meaning is 14th tower since it is the fourteenth tower built from 1570 by the Spanians in the years of monarchy in order to defend the Saracen intruders. Visitors travelling to the destination Arbatax will find many things to see and visit except its main attraction, Rocce Rosse the porphyry cliffs in the sea. The famous tower of San Gemiliano is for sure a place to visit since it provides a remarkable view of the bay of San Gemiliano. The Arbatax Tower or San Miguel, built in 1572 and now organisizng several events and exhibitions, is aswell a site not to be skipped. A wonderful beach with many restaurants, hotels and nightclubs and a main attraction is also the bay of Porto Frailis. Last but not least, sea food and flavors of the ocean are the most famous elements of Arbatax's cuisine. 
Arbatax is the largest village of Tortoli with the population of 5000 inhabitants and the 3rd largest of the Nuoro province. Ferry routes Arbatax are available from Cagliari, Genoa and Civitavecchia. 
Schedules & Prices Arbatax
Choose your departure port and date and get all current ferry schedules and prices for Arbatax!
Discounts & Offers Arbatax
Ferry Port Arbatax - How to get there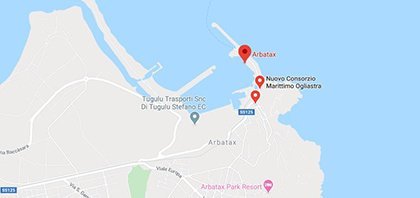 Porto turistico di Marina di Arbatax, 08048 Tortolì OG
Tel.: +39 078 266 7067
GPS: 39.940581, 9.707406
Popular Routes from & to Arbatax