Camping on Board advantages
All passenger Cars & Trailers
Ferry to Chrisomilea
Passengers travelling by ferry to Chrisomilea cross over to a beautiful beach at the homonymous port in the northeastern part of the island Fourni!
Travelling to the Destination Chrisomilea
When travelling to the destination Chrisomilea you see the port that is situated at the foot of the highest mountain of the island which is called Korakas. The village Chrisomilea is built on top of that mountain and you need to climb about 1000 steps to reach it. Once in the village, you will be rewarded with the most magnificent view of all times, as you can admire all islands belonging to the complex of Fourni as well as other islands nearby. You will get the feeling of being in paradise.
Chrisomilea cannot only be reached by car, but also on board of a ferry to Chrisomilea. Upon arriving you can make up your mind whether to stay at the beach and enjoy a swim in the crystal clear waters, or take the path to the village and explore the area. The latter is a good idea, for the view from the village is a once in a lifetime experience. After a break and a refreshment or a sweet Greek coffee in one of the coffeehouses, you should start your tour by visiting the church of Agia Triada (Holy Trinity) and admire the tower made of white marble. Should you decide not to take the road back to Fourni, which is 14 km away, but rather take the ferry from Chrisomilea, you should try some of the local delicacies in a traditional tavern or opt for some seafood after your descent to Kambi.
The Fourni island complex is situated between Ikaria and Samos. Ferry routes Chrisomilea Fourni take the visitor to places of exceptional beauty. Chrisomilea with its 100 inhabitants and numerous other places on the island contribute to the saying that it is heaven on earth. 126 km coastline, countless coves and beaches for all tastes, lush vegetation, friendly locals and delicious food guarantee unforgettable holidays.
Schedules & Prices Chrisomilea
Choose your departure port and date and get all current ferry schedules and prices for Chrisomilea!
Discounts & Offers Chrisomilea
Ferry Port Chrisomilea - How to get there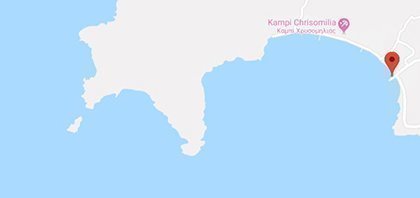 Chrisomilea Port
834 00 Fourni, Greece
Tel.: +30 227 505 1207
GPS: 37.627094, 26.507538
Popular Routes from & to Chrisomilea (Fourni)