Camping on Board advantages
All passenger Cars & Trailers
Ferry to Corsica
Discover unspoiled nature and stunning beaches by traveling with the ferry to Corsica, the "Island of Beauty" which attracts thousands of tourists every year!
Situated among Italy, France, Spain and north Africa, Corsica is the 4th largest island of the Mediterranean Sea, after Sicily, its sister Sardinia and Cyprus. It is one of the most beloved destinations for summer vacation for people all around the world and is also the homeland of Napoleon Bonaparte. Maybe it is its combination of mountainous terrain with crystal clear seas and its delicious local plates and wine. Whichever part of Corsica you explore, there is no doubt that you will find attractive sites and graphical towns, either hilly or coastal ones. Some of the most popular settlements of Corsica are its capital and largest of all, Ajaccio followed by Bastia, Bonifacio, Porto Vecchio, Calvi, Sant'Antonino, Sartene, Belgodere and the stretch of the Cap Corse peninsula with its charming little villages.
Corsica is one of the 18 regions of France with a population of around 340.000 permanent inhabitants. The native and mostly spoken language is French, Corsu and Italian because of Italy's big influence on the island. 
Book your ferry tickets for Corsica now and witness the magic of the "Island of Beauty"!
Travel to Corsica by Ferry
Those who prefer to travel to Corsica by ferry and not by using planes, can either depart from France's south coast, Italy's west coast, also from Sardinia. Frequent ferries are departing all year long while in summer, where tourism in Corsica increases, more are added in order to serve the demand. Some famous routes are:
Corsica Ports
Corsica owns 4 airports and 7 main ports, fact which makes it easily accessible. The main ports of the island, listed by traffic, are:
Ajaccio (west)
Bastia (northeast)
Bonifacio (south)
Porto Vecchio (southeast)
Propriano (southwest)
L'ile Rousse (north)
Calvi (northwest)
There is also well developed infrastructure of public transportation (trains, buses) which gives the opportunity to travelers to explore the island almost effortless. In order to enjoy Corsica to its fullest, it is advisable to rent a vehicle or take advantage of its means of transit. You take a look in Corsica Trains and Corsica Buses.
Corsica Holidays
Holidays in Corsica include the whole package. This means that those who are visiting Corsica have the ability to choose between a big range of scenic places and cities to visit, multiple landmarks and sites along with splendid beaches, sandy or rocky and interesting hiking trails on green mountains. Moreover, there are plenty of hotels and apartments for all preferences, luxurious and budget-friendly while camping is also a feasible choice. In conclusion, the island refers to everybody, from land rovers to swimmers/snorkelers and beach/water sport lovers. 
You should not miss to pay at least a short visit to the GR20 hiking trail, stretching for 180 kilometers and offering extraordinary views while it provides the feeling of ultimate freedom. Same applies to Scandola Nature Reserve (Reserve Naturelle de Scandola), a half land half sea miracle which expands in 20 square kilometers, also belonging to the UNESCO World Heritage Sites list. 
As for the beach lovers, the island is surrounded by turquoise waters. There are lots of beaches for sunbathing, swimming, snorkeling or diving. In the northern part, you can relax at Calvi, Loto, Algajola, Plage de Lozari, Plage de Bodri, or Arinella shores, while in the southern side, you can enjoy a cocktail under the hot sun in Palombaggia, Santa Giulia or at any coastal spot between Bonifacio and Porto Vecchio.
Last but not least, it is inevitable to taste the delicious and famous local dishes such as the signature Civet de Sanglier (wild boar), veau aux olives, agneau Corse accompanied with fragrant red wine.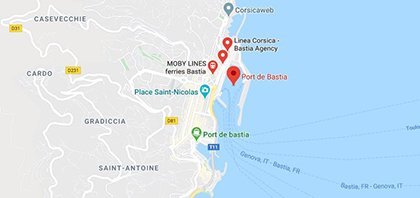 Quai Nouveau Port de Commerce, 20200 Bastia, France
Tel.: +33 495 552 585
GPS: 42.701315, 9.453396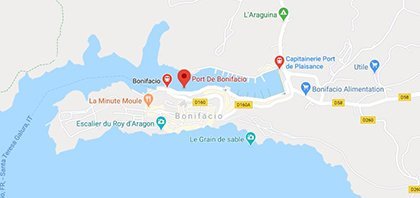 Quai Noël Beretti, 20169 Bonifacio, France
Tel.: +33 495 731 007
GPS: 41.388657, 9.156715