Camping on Board advantages
All passenger Cars & Trailers
Ferry to Kefalonia
Visitors riding a ferry to Kefalonia meet the largest and most mountainous of the seven Ionian Islands with breathtaking scenery and incredible natural beauty!
Kefalonia is located on the west coast of Greece, next to Zakynthos and Lefkada and very close to Patras port, where the majority of the ships are docking from Italy with final destination Greece! It is a very favourite destination for all kinds of tourists as it combines wonderful beaches(like the one in Myrtos,which gave Kefalonia worldwide fame,being probably the most beautiful beach in Greece and one of the best in the world) with clear blue waters,beautiful picturesque villages, enchanting caves(emphasis on the two island caves Melissani and Drogarati near Sami) and hot springs.Also,the island is famous for its incredibly rich seabed where rare species are found and is of interest to be explored as well as for the interesting hiking trails ideal for those travelers more active and nature lovers. A special mention of Ainos National Park which, although the smallest park in Greece, rewards hikers with breathtaking landscapes.
Although the island has suffered severe earthquakes with the most noticeably the strong earthquake of 1953, which destroyed its buildings, a heritage of the Venetians, it still remains a paradise island blessed by nature from the sea and its mountains.
The island of Kefalonia can be reached by ferry via Patras (it reaches Sami) or Kyllini (Poros), but it also has a ferry connection with the neighboring islands (with Ithaca via Sami and Fiskardo, with Zakynthos from Pessada and with Lefkada from Fiskardo).
Kefalonia is not the island for nightclubs and lively nightlife.There are few clubs on the island and they are almost all in Argostoli, the capital. This makes it a destination more suitable for couples and families. It is advisable to book in advance your tickets in order to organize your vacations in this beautiful place.
Reaching Kefalonia by Ferry
Reaching Kefalonia by ferry is feasible mainly from the port of Kyllini and Patras.More specifically the ferry connections are :
Patras to Kefalonia ferry: There are 7 crossings per week from Patras to Sami port in Kefalonia with duration of the journey around 3.5 hours.
Kyllini to Kefalonia: Within the day there are 2 or 3 departures from Kyllini port to Poros port in Kefalonia with journey duration 1.5 hours.
Ferries from Ionian Islands to Kefalonia
Besides the connections mentioned above, If you are still on the neighboring islands, there are ferries from Ionian islands to Kefalonia such as from Ithaca, Zakynthos or Lefkada, to places located in the south part of the island, Sami, Fiskardo and Pessada.Please find below information related to ferry connections of Kefalonia with the group of Ionian islands:
Ferry from Ithaca to Kefalonia: There is a ferry connection from Ithaca(Pisaetos) to Kefalonia (Sami port) with 7 crossings per week especially in the high season period.The duration of the journey is about 30 minutes.
Ferry from Zakynthos to Kefalonia: Only during the period from May to October, there is a local connection with a ferry from Zakynthos(Schinari) to Kefalonia (Pessada port).

Ferry from Lefkada to Kefalonia: the most common connection is with a ferry from Lefkada (Vasiliki) to Kefalonia (Fiskardo port) and for some time aslo from Nidri in Lefkada to the port of Sami in Kefalonia.
Ferry from Astakos to Kefalonia: There is a daily connection with a ferry from Astakos to Kefalonia (Sami port).The total duration of the journey is 3 hours.
Ferries from Italy to Kefalonia
In particular, during the summer period there are routes with ferries from Italy to Kefalonia offering in total 2 sailings per week.
Bari to Kefalonia ferry: A popular route is between Bari to Kefalonia (Sami port) ferry which runs only 1 time per week.
Brindisi to Kefalonia ferry: Another route is operated between Brindisi to Kefalonia (Sami port) ferry which runs only 1 time per week.
Kefalonia Ferry Ports
The main ports of Kefalonia are Argostoli, Sami, Poros, Fiskardo and Pessada which are all quite well organized. The port of Argostoli in the capital is the main and the biggest port of the island with cruise ship reception infrastructure while the other 6 ports of Sami, Poros, Lixouri, Pesadas, Agia Efimia and Fiskardo are used to connect the island with mainland Greece, the surrounding islands and Italy.
Most of the car-passenger ferries run to the ports of Sami and Poros. The port of Sami is located on the central east coast and is the island's busiest seaport while Poros port is situated on the southeast coast of the island and is the second-busiest seaport of the island.
From Kefalonia Center (Argostoli) to Kefalonia Ferry Ports
The capital of Kefalonia Argostoli is the largest city and one of the main ports of the island. Between the city center and the pier there are only about 10-15 minutes of walking which we recommend you not to miss.For travelers arriving on the island without their own vehicle, their transportation from the Kefalonia center to Kefalonia ferry ports can be obtained by local buses or taxis. More specifically :
By Bus
The option to make your transfer by bus is ideal as the local bus network on the island is quite extensive and connects Argostoli with the main ports of Kefalonia, Poros and Sami.
The main bus station of KTEL of Kefalonia is located in Argostoli. For more information please visit KTEL Kefalonia.
By Taxi
If you prefer to move around by taxi you should know that they are plentiful in Argostoli. The taxis have a dark crimson color and their main square is located in Vallianou Square, the central square of Argostoli. For more information you can visit Kefalonia Taxis.
Kefalonia International Airport to Kefalonia Ferry Ports
The transfer from Kefalonia International Airport to Kefalonia ferry ports can be done by taxi, car or buses. The airport is connected with regular bus services to the capital of the island Argostoli (8 km distance), only during the summer season. The starting point is just outside the airport building and the ticket can be purchased from the driver. The ports of Kefalonia, Poros and Sami mainly, are connected to the main bus station in Argostoli with routes that correspond to the majority of ships arriving in Kefalonia.
Please find below some information about the means of transport in Kefalonia :
Bus
The public bus service over the last years has really improved and provides routes almost to most must-see places like Melissani and Drogarati caves, beaches like Myrtos, Assos, Lourdas and many villages on the island. For more information you can visit Kefalonia Buses.
Taxi
The taxi service in Kefalonia includes airport transfers to several seaports of Kefalonia, to every place all over the island, as well as private transfers for tours and excursions. For more information, please visit Kefalonia Taxi service.
Holidays in Kefalonia
Undoubtedly your holidays in Kefalonia will be unforgettable since it is an island of variety and no one gets bored and always discovers something new. The history of the island goes back to prehistoric times and has been challenged over the years by many conquerors due to its strategic position. There are many ancient findings that can be admired in the Archaeological Museum of Argostoli. There is a strong element of the Byzantine and Venetian periods.The philharmonic orchestras in the cities of the island are also a proof of the inclination of the locals towards culture, music and arts. Two of the most famous cultural events are the International Music Festival in Argostoli and the "Varkarola" festival in Assos village.
Most of the beaches are untouched and offer enchanting landscapes and a peaceful atmosphere. The trademark of Kefalonia is Myrtos beach, but there are other beaches which are distinguished, such as Antisamos in Sami, where "Captain Corelli's Mandolin" was filmed, Xi beach in Lixouri, where the reddish sand works as a natural spa with clay and the bustling beaches of Skala and Platys and Makry Gialos for those of you who prefer sunbeds and other facilities.
In addition Kefalonia is the island where all summer activities are offered to the visitor such as scuba diving, sailing, kayaking, cycling and of course hiking.
Of course we should not miss the wonderful dishes and the unique cuisine that the visitor in Kefalonia is worth trying. Delicious handmade pies with meat, greens and artichokes. It is also worth trying the local specialties such bourbourelia, bourgeto, sofigado, pastitsada and aliada while from sweets the famous traditional "mandoles" but also moustalevria and almond pie.
In many parts of the island such as in Fiskardo, in Agia Efimia one can find tasteful cafes, ouzo and restaurants with good food.
We provide you below information about hotels,beaches and must see places in Kefalonia, always according to visitors reviews and suggestions:
Hotels in Kefalonia
Due to its large size there is a wide range of hotels in Kefalonia with luxury resorts and villas , providing first class amenities ,fantastic studios and apartments as well as boutique hotels and lovable hotels for families with all-inclusive packages.
The following is an indicative list of hotels that you might choose for your stay in Kefalonia:
White Rocks Hotel
Ionian Emerald Resort
Lassi Hotel
Fiskardo Cottage
Regina Dell'Acqua Resort
Kefalonia Bay Palace
Avithos Resort
Thalassa Boutique Hotel
Spiaggia
Beaches in Kefalonia
For what is most famous Kefalonia is its beaches with the majority of them having been awarded with the Blue Flag for their cleanliness. There are beaches well organized as well as more secluded. Beaches with turquoise water, white sand and impressive natural beauty
Please find below a list of the best beaches in Kefalonia island:
Myrtos Beach
Antisamos Beach
Makris Gialos Beach
Platis Gialos Beach
Skala Beach
Lourdas Beach
Foki Fiskardo Beach
Xi Beach
Avithos Beach
Emblisi Fiskardo Beach
Ai Helis Beach
Petani Beach
Sights in Kefalonia
Besides the wonderful beaches with the most incredible turquoise waters of the Ionian Sea, and the doll-like villages there are also some places that are worth visiting in Kefalonia, such as the unique caves and the enchanting trails and hikes in the green mountains.
Sightseeing in Kefalonia:
Melissani Lake Cave (The cave of the nymphs)
Drogarati Cave
Archaeological Museum
Mount Ainos
Katavothres
Castle of Saint George
Castle of Assos
Ancient Acropolis
Island Hopping from Kefalonia
Starting from the island of Kefalonia you should not miss the opportunity to visit Ithaca, Zakynthos, Lefkada, Paxi and explore the most impressive sights and multi awarded beaches of these wonderful islands. There are daily excursions and cruises at a relatively low cost!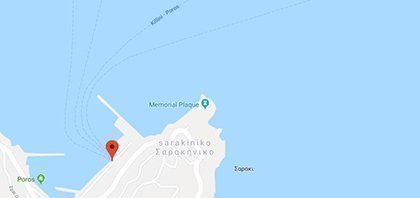 Poros Port
280 82 Kefalonia, Greece
Tel.: +30 267 102 2224
GPS: 38.147446, 20.782942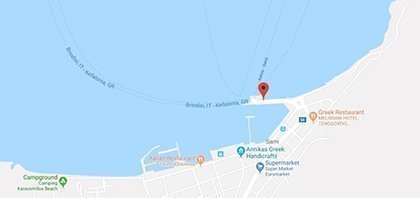 Sami Port
280 80 Kefalonia, Greece
Tel.: +30 267 402 2031
GPS: 38.254205, 20.648139