Camping on Board advantages
All passenger Cars & Trailers
Ferry to Paxi
Passengers travelling by ferry to Paxi experience a cosmopolitan summer island with emerald beaches!
Travelling to the Destination Paxi
Paxos and Antipaxos are two green islands with lush vegetation reaching to the beaches of white sand and pebbles, enchanting the visitor at first glance. The port of Gaios, which is also the capital of the island, was declared a European Cultural Village for the year 2004. Hidden behind the islands of Agios Nikolaos and Panagia, Gaios unfolds gradually as the ferry reaches the port, revealing its picturesqueness. Stone houses and tilted roofs compose the scenery of the village.
Anyone travelling to the destination Paxi will discover an island with two sides. The rocky wild west side, with steep cliffs and sea caves and the smooth eastern side, with lacy beaches and the settlements of Gaios, Loggos and Lakka. Deep inside its mountain volume the visitor can walk on picturesque villages like Magazia with a magnificent view of Ortholithos at sunset. Those who leave with a ferry from Paxi will have discovered the natural beauties and attractions of the island. The English Governor's Building and the Folklore Museum are worth visiting. One can also take a tour at the Soap factory in Longo and walk around the olive groves and vineyards of the settlement.
Paxi are inhabited by 2.374 residents. Locals are warm and friendly people who have a great love for their tradition but yet want to keep track with contemporary Europe. Paxi ferries are available from Corfu and Igoumenitsa. In order to see the Paxi ferry timetable and gain more useful information about the ferry trip to Paxi, please use the above real-time booking engine.
Schedules & Prices Paxi
Choose your departure port and date and get all current ferry schedules and prices for Paxi!
Discounts & Offers Paxi
Ferry Port Paxi - How to get there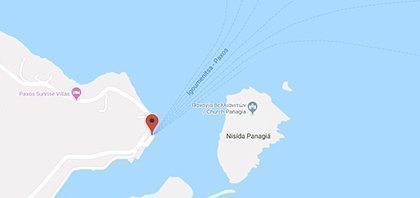 Paxos New Port
490 82 Paxi, Greece
Tel.: +30 266 203 2259
GPS: 39.203869, 20.190366
Popular Routes from & to Paxi