Camping on Board advantages
All passenger Cars & Trailers
Ferry to Livorno
Passengers travelling by ferry to Livorno arrive at an important seaport on the west coast of Italy on the Ligurian Sea!
Travelling to the Destination Livorno
The capital of the Province of Livorno is the maritime gateway to the Tuscany region of Italy. From Livorno or Leghorn in English one can easily reach Tuscany's top tourist destinations including Florence, Pisa, Lucca and Siena. But the city itself has also a lot of attractions to offer.When travelling to the destination Livorno passengers can see a portion of Livorno's city walls, which used to surround the city, near the port area and Fortezza Nuova (New Fort), a castle dating back to around 1576.
Ferry to Livorno may sail from Barcelona, Cagliari, Genoa, Palermo (Sicily) and other cities. The old fort of Livorno (Fortezza Vecchia di Livorno) is situated near Livorno's picturesque old port and is a must see for all visitors. This historical fortress dates back to the mid 1500s. A number of churches, museums and Piazzas (public squares) make a visit to the town interesting. Before leaving with ferries from Livorno, tourists should explore the cathedral of the town, commonly called Duomo, dedicated to Francis of Assisi, Mary, mother of Jesus, and Julia of Corsica on the south side of Piazza Grande. The construction of the Cathedral began in 1581.
Ferry routes Livorno connect other Italian and Spanish cities with the town. The Port of Livorno is one of the largest Italian seaports and one of the largest seaports in the Mediterranean Sea. One of the most famous landmarks in Livorno is a monument located near the port, which dates back to the Renaissance period, and is called "Monumento dei quattro mori" (Monument of the Four Moors). Completed in 1626 to commemorate the victories of Ferdinand I of Tuscany over the Ottomans, it is located in Piazza Micheli. Through Livorno ferry timetable, visitors can plan and organize their journey to that distinguished part of Italy.
Schedules & Prices Livorno
Choose your departure port and date and get all current ferry schedules and prices for Livorno!
Discounts & Offers Livorno
Ferry Port Livorno - How to get there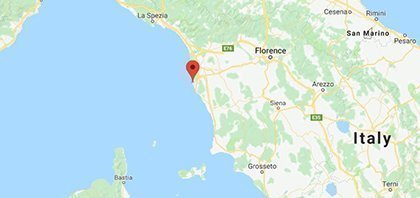 1, Calata Sgarallino, 571 00 Livorno, Italy
Tel.: +39 058 624 9411
GPS: 43.551317, 10.301371
Popular Routes from & to Livorno