Camping on Board advantages
All passenger Cars & Trailers
Ferry to Otranto
Passengers travelling by ferry to Otranto arrive in a small town of Italy on the east coast of Salento!
Travelling to the Destination Otranto
When travelling to the destination Otranto one is taken to a port of great historical importance. In 1480 it was invaded by Turks and the bones of 813 martyrs are placed in its amazing cathedral, in a glass case behind the altar. There one can also see the city's main attraction, the famous medieval mosaic floor the work of a single monk. Religious, mythical and pagan figures, such as Noah and Alexander the Great are some of the elements composing that great masterpiece. 
Ferry to Otranto takes you to a small place ideal for a day trip or longer vacations. The town's center is still surrounded by the walls of the old castle travelling you back in time. Walk through the streets of Otranto with its small souvenir shops and the large variety of cafes and restaurants. Take a stroll down the port and please yourself with a drink gazing at the open sea. The town also has many beautiful beaches to offer so don't forget to pay them a visit before taking a ferry from Otranto. The famous beach of Baia dei Turchi is situated at the north part of Otranto and can be reached by car or local busses during the summer time. One can also visit the rocky cove of Porto Badisco.
Otranto is 43 nautical miles from the Greek island of Othoni and has a population of 5.400 residents. Ferry routes Otranto start from the ports of Corfu and Paxi. Sailing duration from Corfu is 2.5 hours and from Paxi 3 hours and 45 minutes.
Schedules & Prices Otranto
Choose your departure port and date and get all current ferry schedules and prices for Otranto!
Discounts & Offers Otranto
Ferry Port Otranto - How to get there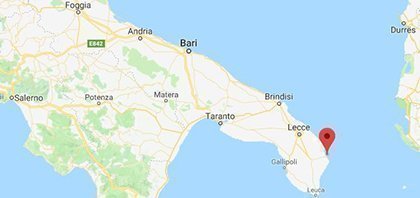 Via del Porto, 730 28 Otranto, Italy
Tel.: +49 083 680 2119
GPS: 40.145635, 18.495761
Popular Routes from & to Otranto