Camping on Board advantages
All passenger Cars & Trailers
Ferry to Corfu
Passengers travelling by ferry to Corfu visit a among tourists very famous Greek island situated in the very North of the Ionian Sea!
Travelling to the Destination Corfu
The island is situated at the brink of the Adriatic Sea close to the coast of Epeiros. Its coastline is shaped by many beautiful bays and capes and is 217 km long. The northern part of the island is mostly covered by mountainous terrains. The name Corfu is derived from two mountain summits which become visible when approaching the island. The highest summits are those of mount Pantokratoras (914 m) and mount Stavroskiadi (849 m).
Those travelling to the destination Corfu soon notice the Venetian character of the city. It's a cosmopolitan city with noble shades. The most important sights are the Esplanade Square, the Old and the new palace, the town hall (Theatre San Giacomo), Mon Repo and the Byzantine and Post Byzantine Museum. Tourist should also see the out of town sights. The Achillion, palace of Empress Elisabeth of Austria (Sissi), the district Pelekas, renowned for the magnificent sunset and Palaiokastritsa, where the Byzantine Fortress Angelokastro is situated are attractions of the region. Beautiful white sandy beaches can be found in Ai Gordis, Glyfada, Agios Georgios, Kassiopi and Sidari. The villages Sianarades, St Mattheus and Spartylas seem to vanish in the rich flora.
Ferry routes Corfu are very well developed and include connections to Italy as well as to other Ionian Islands.
How to get to Corfu
Schedules & Prices Corfu
Choose your departure port and date and get all current ferry schedules and prices for Corfu!
Discounts & Offers Corfu
Ferry Port Corfu - How to get there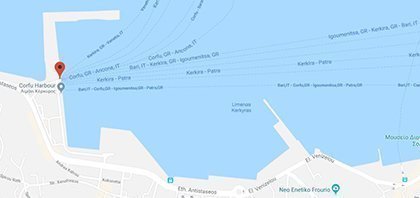 New Passenger Port
24, Ethnikis Antistaseos, 491 00 Corfu, Greece
Tel.: +30 266 104 5551
GPS: 39.630243, 19.901697
Popular Routes from & to Corfu