Camping on Board advantages
All passenger Cars & Trailers
Ferry to Poros in Kefalonia
Passengers travelling by ferry to Poros cross over to a scenic landscape combined with mountains and gorges beaches in the south edge of Kefalonia island!
Travelling to the Destination Poros on Kefalonia
It's one of the main ports of the island a seaside bustling town, ideal for those you wish to avoid the large organized groups of tourists. It's the ideal starting point for island hopping, walking and hiking. During the day you can take care of all your business in the town and during the night you can enjoy a drink or cocktail in the local bars.
When travelling to the destination Poros you arrive to a village where you will feel the Greek hospitality and experience the local culture. If you wish to find a quiet place for a swim away from the crowds you can go South of Poros towards Skala where you will find numerous pretty little coves and beaches along the coastline. A place worth visiting is the monastery of Atos, the oldest monastery of Kefalonia, 5 kilometers above the port of Poros. It has been destroyed 17 times but each time it was rebuilt by the monks. During the summer months in the main square of Poros many cultural events take place along with the Greek festival Nights in the open theater. You can also take a ferry from Poros and visit the nearby islands of Ithaca and Zakynthos.
Poros is inhabited by 1500 residents. It's connected through the port of Kyllini. During the summer months ferry routes Poros are also available to other islands of the Ionian Sea through local ferries that cannot be found online.
Schedules & Prices Poros (Kefalonia)
Choose your departure port and date and get all current ferry schedules and prices for Poros (Kefalonia)!
Discounts & Offers Poros (Kefalonia)
Ferry Port Poros (Kefalonia) - How to get there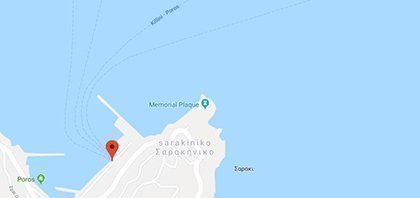 Poros Port
280 82 Kefalonia, Greece
Tel.: +30 267 102 2224
GPS: 38.147446, 20.782942
Popular Routes from & to Poros (Kefalonia)