Camping on Board advantages
All passenger Cars & Trailers
Ferry to Pythagorio
Passengers travelling by ferry to Pythagorio cross over to a beautiful seaside settlement on the southeast side of the island of Samos!
Travelling to the Destination Pythagorio
Take the ferry Pythagorio whose name comes after a great Greek philosopher Pythagoras and visit one of the most beautiful villages of Samos. It's a cosmopolitan destination visited by a large number of tourist during the summer months. The town has exceptionally good tourist infrastructure and offers many alternatives for accommodation both in the city and within walking distance from the center. In the traditional taverns and coffee shops you can enjoy the local cuisine and delicacies and the local market is ideal for shopping. When the night falls music is spread all over the town as many bars and restaurants offer traditional and modern music.
Passengers travelling to the destination Pythagorio also reach a place with many hidden treasures for the lovers of history. One can gaze at the statue of Pythagoras overlooking the sea, at the edge of the harbor. They can visit the archeological and folklore museum, the remaining of Roman baths at the entrance of the settlement and the ruins of the ancient city where there are traces of the Polycratium Wall of the Acropolis. There is also an open theatre available which hosts many events during the summer season. Before taking a ferry from Pythagorio all travellers have visited the beach of Potokakia the most famous beach of the island. A long pebbled beach with easy access offering a variety of water sports favorite to younger people.
Pythagorio is 12 kilometers away from the capital of Samos and has a population of 1,272 inhabitants. From the ferry port of Pythagorio hydrofoils depart during the summer period connecting the island to other Dodecanese islands. And of course the island is connected daily to the port of Piraeus. For further information about all ferry routes to and from Pythagorio please check isFerry's Pythagorio ferry timetable.
Schedules & Prices Pythagorio
Choose your departure port and date and get all current ferry schedules and prices for Pythagorio!
Discounts & Offers Pythagorio
Ferry Port Pythagorio - How to get there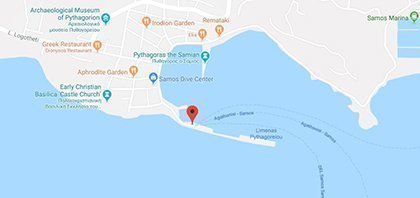 Pythagorio Port
831 03 Pythagorio, Samos, Greece
Tel.: +30 227 302 7318
GPS: 37.687504, 26.944320
Popular Routes from & to Pythagorio (Samos)