Camping on Board advantages
All passenger Cars & Trailers
Ferry Pythagorio-Lipsi
On the web pages of isferry.com an optimized booking machine helps you book ferry Pythagorio-Lipsi easily, safely and fast. The booked Pythagorio-Lipsi  ferry will be instantly confirmed (a second confirmation will be sent to you by e-mail). Purchase your ticket for Pythagorio-Lipsi  ferries conveniently in advance from isferry.com. The e-ticket for the ferries Pythagorio-Lipsi  provides maximum flexibility and convenience. Should you not be able to use the booked ferry Pythagorio-Lipsi, due to personal reasons, and therefore not start your journey, you will have the possibility to cancel the reservation by entering your booking number and your previously registered e-mail address through the administrative assistant (in this case cancellation fees may occur). In addition, you can use the administrative assistant to print and to view your reservations for ferries Pythagorio-Lipsi. If you want to alter the data of your booking (e.g. name, age, license plate number, gender and so on), please send us an e-mail to info@isferry.com and we will immediately make the requested changes for you (please read our Booking Terms on this).
Ferry from Pythagorio to Lipsi
Opt between different shipping companies for your ferry from Pythagorio to Lipsi. Ferries from Pythagorio to Lipsi offer a wide range of connections for visiting other Greek islands or the Greek mainland. Routes, maps and pictures of Pythagorio to Lipsi ferry can be called up and viewed here. Furthermore, isferry.com provides information on the point of departure and place of arrival of the ferry Pythagorio to Lipsi. Historically important dates on the locations and their ports, sites worth visiting, infrastructure, ferry connections and more of the from Ferry Pythagorio to Lipsi ferry can be viewed here.
How to get from Pythagorio to Lipsi
Numerous Greek shipping companies put at the passengers' disposal a boat from Pythagorio to Lipsi. All boats from Pythagorio to Lipsi run by Greek shipping companies can be compared on the web pages of isferry.com. The selected boat Pythagorio to Lipsi can be checked on its availability in real time through the booking engine of isferry.com. Experience the crossing either with a conventional or a high speed ferry Pythagorio to Lipsi. For all current ferry connections from Pythagorio to Lipsi, which are constantly available to you, please check the ferry timetables Pythagorio-Lipsi and ferry schedules Pythagorio-Lipsi through our booking engine.
Ferry Pythagorio to Lipsi
How to get from Pythagorio to Lipsi with conventional and high speed ferries, details of scheduled departures, updated prices and how to reach the ports!
Conventional or High Speed Ferry from Pythagorio to Lipsi ?
There are two basic ferry types for the route from Pythagorio to Lipsi: Conventional (regular car ferries) and High Speed.
Regular car ferries take more travel time from Pythagorio to Lipsi but are definitely the most popular and cheapest ones! Especially on day trips, normal ferries are a relaxing way to travel between Pythagorio and Lipsi, with all the fantastic sea views and the sea breeze someone can enjoy from the decks!
High speed ferries are smaller and a bit more expensive but they cut the travel time from Pythagorio to Lipsi almost in half! Occasionally there are high speed ferries from Pythagorio to Lipsi available that can transport vehicles.
Check out all Ferry Types and their overall characteristics!
Schedules & Prices Pythagorio to Lipsi
Choose your departure date and get all current ferry schedules and prices from Pythagorio to Lipsi!
Discounts & Offers Pythagorio to Lipsi
Ferry Ports Pythagorio & Lipsi - How to get there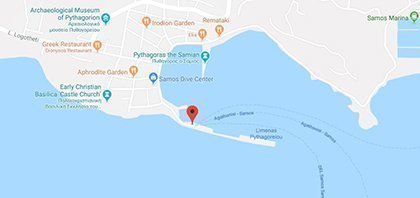 Pythagorio Port
831 03 Pythagorio, Samos, Greece
Tel.: +30 227 302 7318
GPS: 37.687504, 26.944320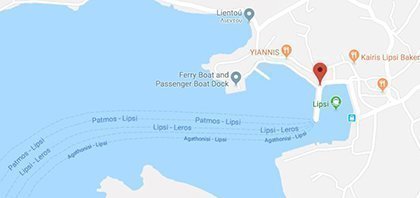 850 01 Lipsi, Greece
Tel.: +30 224 704 1133
GPS: 37.295592, 26.766664