Camping on Board advantages
All passenger Cars & Trailers
Ferry to Rethymno
Passengers travelling by ferry to Rethymno arrive at the third largest city of Crete after Heraklion and Chania!
Travelling to the Destination Rethymno
The city attracts a lot of Greek and foreign tourists every year and due to its students (2500) it is also during the winter very vibrant. There is a new port in the city for the ferry Rethymno and a Venetian port with a marina and berths for the yachts. Despite the missing airport (the next airports are in Heraklion and Chania) Rethymno has a well built touristic infrastructure. Due to many entertainment options (cycle path network, climbing, water sports, old town, weekly markets etc.) the city is popular with traditional tourists as well as with alternative tourist groups.
Tourists travelling to the destination ferry to Rethymno see many places of interest from Venetian times and from Ottoman times. The only excavation site of the city, which by the way dates back to the Late Minoan Age, consists of a family cemetery with about 200 rock-hewn graves. The finds of that site are displayed in the archaeological museums of Chania and Heraklion. Rethymno too, owns some museums; an archaeological, a church museum, a Historical and Folklore Museum, and a Museum of Sealife. Before the departure with ferries from Rethymno, tourists should schedule at least one day to visit some of the many buildings (sacral and secular buildings), churches (Tessaron Martyron, Agios Antonios, San Francesco) and museums (Kara-Mousa-Pascha, Neratzes, Sultan Ibrahim).
Ferry routes Rethymno are well developed and include connections to Piraeus (about 9,5 hours trip) and Santorini. The ferry route Rethymno-Santorini is only periodically available. When available the route is executed 2-3 times per week. Please check the real-time Rethymno ferry timetable of isferry.com for further information.
Schedules & Prices Rethymno
Choose your departure port and date and get all current ferry schedules and prices for Rethymno!
Discounts & Offers Rethymno
Ferry Port Rethymno - How to get there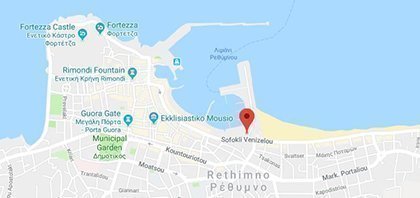 Sofokli Venizelou, Delfini Building, 741 00 Rethymno, Crete, Greece
Tel.: +30 283 102 2408
GPS: 35.366979, 24.482767
Popular Routes from & to Rethymno