Camping on Board advantages
All passenger Cars & Trailers
Ferry to Heraklion
Passengers travelling by ferry to Heraklion arrive in the largest and most vibrating city of Greece's largest island Crete!
Travelling to the Destination Heraklion
In Heraklion, the capital city of the island, tourism, agriculture and commerce are the main branches of its economy.
Most of Crete's sights can be found in Heraklion. Tourists traveling to the destination Heraklion should at least take a look at prehistoric Minoan culture. The palaces of Knossos and Festos are very impressive even for those who are less interested in archaeology. Although a lot of artifacts have been replaced due to restoration the originals (almost complete in number) are on display in the archaeological museum. That is one of the most significant museums in the world with findings from all over Crete and it is located near other places of archaeological interest like Agia Triada, Gortzi and Malia. Visitors should also pay a visit to the Venetian port of Heraklion and its fortress. Also very interesting are Agios Minas Cathedral and the old church of Agia Ekaterini. That church houses a museum now and displays works of the famous painter Michail Damaskinos. The gravesite of the renowned author Nikos Kazantzakis is situated in the Martinegro Bastion at the town walls.
Except for the International Airport of Heraklion, which is steadily growing, there is also a man-made port in the town. It is Crete's largest ferry port. Well developed are therefore the ferry connections. Daily routes to Piraeus, Santorini, Rhodes, Paros, Naxos, Mykonos, Karpathos and Ios are executed from here.
Schedules & Prices Heraklion
Choose your departure port and date and get all current ferry schedules and prices for Heraklion!
Discounts & Offers Heraklion
Ferry Port Heraklion - How to get there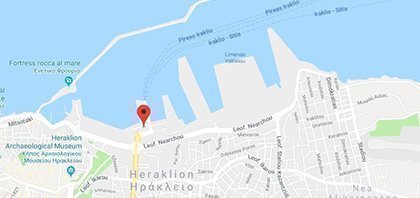 Leof. Nearchou, 713 07 Iraklio, Crete, Greece
Tel.: +30 281 033 8116
GPS: 35.342108, 25.142767
Popular Routes from & to Heraklion