Camping on Board advantages
All passenger Cars & Trailers
Ferry to Chania
Passengers travelling by ferry ferry to Chania visit one of the cities of Crete, which have much to offer in terms of culture and recreation!
Travelling to the Destination Chania
Today it is the capital of the prefecture of the same name. The biggest part of this prefecture is occupied by the White Mountains or "Lefka Ori". Those mountains, deep green at their feet, start at the north coast of the prefecture and reach at an altitude of 2453 metres before they bleakly slope downwards to the Libyan Sea. In the north – east of the prefecture lie the bays of Souda, Chania and Kissamos. Souda Bay forms the largest natural harbour of Greece. All bays include beautiful long sandy beaches suitable for swimming and relaxing.
Travelling to the destination Chania, tourists can visit a town full of interesting places. Historical forts like that of Firka, interesting districts like Topana and Splatzia, and old churches like those of Agios Rokos, Agios Nikolaos and Agii Anargiri constitute the mainly Venetian character of the harbor and the city. Before their departure with ferries from Chania, tourists should see the archaeological Museum, the roofed Public Market and the Historical Archive of Crete.
After Heraklion, Chania is the second largest town in Crete with a population of about 54 000. The prefecture of Chania though has a population of 108 000. The whole region occupies an area of 356, 12 square kilometres. Chania's Airport as well as ferry routes Chania offer plenty of opportunities to reach the island. From the ferry port of Chania, which is in the bay of Souda, a lot of ferries execute daily routes to Piraeus and many other Greek islands. For further information about all ferry routes to and from Chania please check isFerry's Chania ferry timetable.
Schedules & Prices Chania
Choose your departure port and date and get all current ferry schedules and prices for Chania!
Discounts & Offers Chania
Ferry Port Chania - How to get there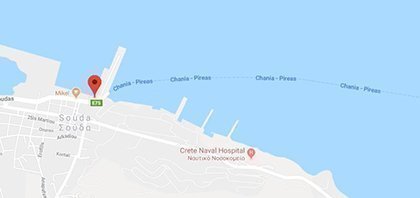 Ormos Soudas, 732 00 Souda, Chania, Crete, Greece
Tel.: +30 282 108 9240
GPS: 35.489015, 24.075757
Popular Routes from & to Chania