Camping on Board advantages
All passenger Cars & Trailers
Ferry to Savona
Passengers travelling by ferry to Savona get to the third largest city of Linguria, northwest of Italy!
Travelling to the Destination Savona
Savona, though mainly an industrial city, is also a cross stop for cruise ships operating in the Mediterranean. The city includes the historical center with medieval, Renaissance and baroque buildings with narrow alleys filled with tourists during the summer months. Opposite the port, the 23 meters high turret of León Pancantdo or Dela Couardda, is one of the city's main attraction. From the top one can admire the panoramic view of the city and the coast that lies ahead.
Anyone travelling to the destination Savona will reach a city of 2 faces. A city of modern and classical architecture. Savona is an ideal destination for lovers of art and history. The Art Gallery hosts works of invaluable value in the medieval and modern times. The Genoese fortress of Praimar, is both an archaeological museum and cultural center. The Renaissance cathedral with its imposing baroque façade, Siccina's Capella next to it recounts the brilliant past of the city. Palazzo della Rovera of the 18th century and the old towers of the city also offer the visitor a scent of the old town before leaving with a ferry from Savona.
Savona offers long walks on the cobblestone streets of the historic center, sailing boat trips, shopping in luxury boutiques, gastronomic discoveries and historic trails. The Savona ferries take the traveller to Barcelona and Tangier. The Genoa port, 63.7km from Savona, is linked to the Corsica, Sardinian and Sicilian islands, Barcelona to Spain, Tangier to Morocco, Tunis to Tunisia, and Sikkita to Algeria.
Schedules & Prices Savona
Choose your departure port and date and get all current ferry schedules and prices for Savona!
Discounts & Offers Savona
Ferry Port Savona - How to get there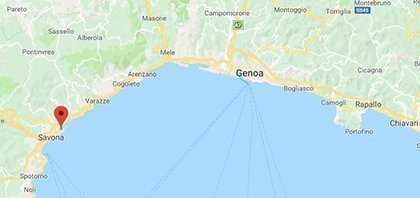 16, Via dei Calafati, 171 00 Savona, Italy
Tel.: +39 019 855 41
GPS: 44.307619, 8.489322
Popular Routes from & to Savona