Camping on Board advantages
All passenger Cars & Trailers
Ferry to Symi
Passengers travelling by ferry to Symi visit the most beautiful and picturesque island of the Dodecanese island group!
Travelling to the Destination Symi
The island has a lot of mountains and is surrounded by innumerable bays and the clean sea. Chorio or Ano Symi is the main town of the island and is located between two mountains. To be more precise, the town spans two hills flanking the port of Symi. The neo-classical houses display the traditional architecture of the island and rise tier upon tier to the peak creating a small town. The town and its buildings date back to the 19th century.
Tourists travelling to the destination Symi and visit the main town Ano Symi discover some derelict buildings, partly decayed, among the picturesque houses. At the beginning of the 20th century Symi had almost 30,000 inhabitants. It used to be the capital of the Dodecanese and the hub of sponge fishing for the world. Nevertheless, after having enjoyed the time on the islands and upon departure with ferries from Symi, visitors will realize that the economical decline of Symi has come to an end and the island is flourishing again. Increasing tourism is an important factor in the new awakening of the island. Population has started to increase and to head for new settlements out of the port and Chorio.
Symi is located very close to the Anatolian coast, north of Rhodes. It covers an area of about 58 square km and the coastline is 85 km long. Approximately 2,500 people live on the island in the meantime. Ferry routes Symi include routes to Piraeus, Rhodes, the Cyclades and the other Dodecanese islands and can be seen online through isFerry's Symi ferry timetable. The distance to Piraeus is 230 nautical miles and to Rhodes 21 nautical miles.
Schedules & Prices Symi
Choose your departure port and date and get all current ferry schedules and prices for Symi!
Discounts & Offers Symi
Ferry Port Symi - How to get there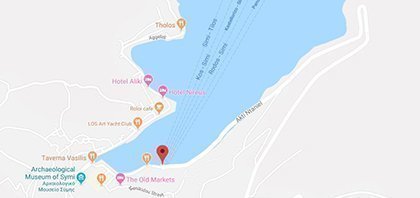 Ano Symi, 856 00 Symi, Greece
Tel.: +30 224 607 1205
GPS: 36.615789, 27.838512
Popular Routes from & to Symi